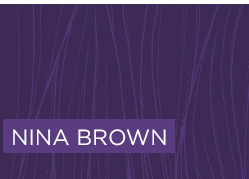 Santa Fe, NM (PRWEB) April 30, 2013
Nina Brown, award winning author, speaker and founder of the Gathering of Golden Dolphins and the S.T.A.R. Clinic, will unveil a new website, NinaBrown33.com, on May 1, 2013.
The launch of the new website, which offers easy access to essential information and techniques for empowerment and cultivating self-awareness, is designed to be a helpful resource for worldwide spiritual audiences interested in proactively contributing toward positive change.
"The new earth, which was ushered in formally on winter solstice (12/21/12), motivates me to examine what I can shed and what I can create," said Brown. "I realize that just as the 26,000-year cycle came to completion, so did my enormous body of work and that it is now time to open up a new expression of me, thus the creation of my new web presence, NinaBrown33.com, which is inspired by the "new" of the new earth."
The website boasts a clean, modern design and user-friendly interface. Other features include Brown's written blog and a video-blog (vlog), all new one-on-one Multi-Dimensional Sessions, events, shopping and the ability to register for Brown's email newsletters.
Future plans for the site include a free 11 part video learning series entitled, 'Eleven Tools to Assist in Creating the New Earth,' and an immersive online program for personal growth.
Enthusiasts of Brown's previous body of work with the Gathering of Golden Dolphins and S.T.A.R. Clinic will have access to articles and resources, which remain available on the new website in an extensive archive section.
About Nina Brown:
Nina Brown is an award-winning author, international speaker, cum laude graduate of Bryn Mawr College and distinguished pioneer in business. Retired from the company she formed to assist women entrepreneurs, Brown has also served as a consultant and leader in the field of alternative medicine, once collaborating to form a company to bring neurosensory diagnostic tools to injured veterans. More recently, Nina founded the S.T.A.R. Clinic, which hosted several conferences, webinars and intensives, to help spread the central message of her books, inspiring and supporting participants to awaken to their human-divinity and personal power as sovereign creators. Her ceaseless dedication to spreading this message contributes to growing interest for an ever broadening worldwide audience. Brown now devotes enormous energies full time to this sacred spiritual mission.