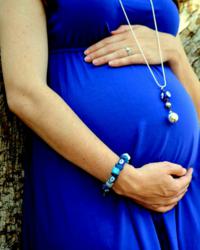 "Our Baby Bell Bells™ have been a part of pregnancy journeys for hundreds of our customers and their families."
Boston, MA (PRWEB) April 30, 2013
East Coast jewelry line SariBlue® (http://www.sariblue.com) will gift its popular handcrafted Baby Belly Bell™ Maternity Necklace to Hollywood Moms as part of a collaborative Mother's Day Celebrity Gift Bag being put together by the Artisan Group. The Mother's Day Gift Bag will go to some of Hollywood's most talked about Moms, including Rachel Wood, Gisele Bündchen, Penelope Cruz, Shakira, Kim Kardashian, Jennifer Nettles and many others. The bag will be delivered in time for Mother's Day on May 12.
The new SariBlue® Baby Belly Bells™ Collection, which includes several versions of the Baby Belly Bells™ with coordinating earrings and bracelets, will be available to retailers beginning May 13.
Christine Lorenzo, jewelry designer/founder of SariBlue®, explains that the Baby Belly Bells™, also known as Angel Callers, marry aspects of Mediterranean and Latin American cultures by incorporating the Evil Eye Bead (a traditional protective amulet) and a bola chime in a long pendant worn over the pregnant belly to help calm and protect the unborn baby. She goes on to add that once born, the baby is calmed as it continues to hear this familiar sounding chime when the bell is hung above the baby's crib or in a nursery window.
The Baby Belly Bells™ design is so unique it was recently trademarked. The Bells have been a hot item on the SariBlue® website for some time and really took off after actress Megan Fox wore her Baby Belly Bell ™ out and about in LA during her pregnancy. Moms say they appreciate the "good vibes" and musical "jingle" they experience when wearing the Bells and Dads comment on the fact that this is a gift their wife "really loves."
"At SariBlue®, we love babies, we love moms, we love families and we love pregnant women," smiled Lorenzo. "We're proud to say our Baby Bell Bells™ have been a part of pregnancy journeys for hundreds of our customers and their families. There's nothing more gratifying than that."
Follow SariBlue on Facebook (SariBlueJewelry) and Twitter (@BigandSari).
Retailers interested in carrying SariBlue Baby Belly Bells™ can request a catalog by calling Christine Lorenzo at +1 (978) 833-2501 or by emailing customersupport(at)sariblue(dot)com.
ABOUT SARIBLUE®
SariBlue® (http://www.sariblue.com) is an earthy, bohemian, wear-it-everyday jewelry collection centered on the power and theory of the universally recognizable symbol: the Evil Eye. SariBlue® is especially known for its Angel Callers or maternity necklaces. With a focus on glass beads handcrafted via ancient eco-friendly methods, the collection ties together past and present in a distinctive way, adding protection through the talisman.