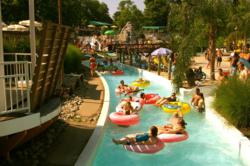 Mason, Ohio (PRWEB) April 29, 2013
New and newly enhanced businesses, restaurants and hotels will welcome tourists for the 2013 travel season in Warren County.
Kings Island has added a life-size sauroposeidon to Dinosaurs Alive! this season. The new dinosaur, which spans the length of three school buses and stands as tall as a six-story building, is the world's largest animatronic dinosaur.
The Reds Hall of Fame Grille also is new for the 2013 season. The full-service, sit-down, air-conditioned restaurant is located near the Diamondback roller coaster, and will showcase Reds memorabilia from ticket stubs and score cards to replica plaques for each of the 81 Reds Hall of Fame inductees and more.
The Beach, an Adventure Landing Park, is reopening on May 18 under new management for the 2013 season. Since acquiring the park in July 2012, Adventure Holdings, LLC has invested nearly $5 million into renovating the park and preparing it for opening weekend.
Improvements have been made around the park including an update for the "lazy river," common areas, slides, play areas, restrooms, and restaurants. A new arcade has been added, along with renovated children's areas.
The Baymont Inn in Mason, located steps from The Beach, also is undergoing renovations. According to new General Manager Joe Lockaby, the rooms, linens and furnishings are being updated, as will the front lobby. Lockaby also plans to run a shuttle to The Beach and Kings Island.
Ozone Zipline Adventures is now offering season passes. These passes allow for three zipline tours, and include discounted tours when a passholder brings a friend, along with additional values and discounts. Ozone Ziplines also continues to offer their unique tour, night zipping.
A new rainy day option also has opened in the area. Located in Lebanon, Jump Stop Safari calls itself a "Mega Indoor Playground for children under age 12," and offers a multi-level padded play center, inflatables, and a bounce house.
Valley Vineyards and Morgan's Outdoor Adventures have teamed up for a second year with their combined evening attraction, Twilight Canoe and Dinner for Two. Guests take a three-mile guided float (which lasts approximately one hour) down the Little Miami Scenic River with Morgan's and finish at Valley Vineyards, where dinner and live music are included.
Phoenician Taverna, a Lebanese fine-dining restaurant, opened in Mason in late 2012. It is the only Lebanese restaurant in Warren County, and has already earned high marks from critics and locals alike in the short time it has been open. The restaurant is owned by Wassim Matarand the menu is authentically Lebanese, featuring items including hot and cold mezze (appetizers) such as hummus, spinach pies, and m'hammara (walnut dip), a beef/lamb shawarma, and pistachio baklava.
About the Warren County Convention & Visitors Bureau:
Warren County is Ohio's Largest Playground! With easy access from Interstates 71 and 75, visitors to Warren County can enjoy more activities within a 30-mile radius than anywhere else in Ohio.
The Warren County Convention & Visitors Bureau is a professional destination marketing organization committed to economic growth by increasing overnight and year-round visitors.
Tourism is the leading industry in Warren County. The 7.8 million yearly visitors drive an economic impact of $993 million and 10,657 tourism-related jobs.
For additional information, visit http://www.ohioslargestplayground.com or call 800-433-1072.
Warren County is Ohio's Largest Playground!®
###