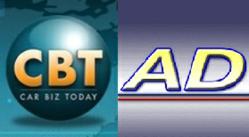 Atlanta, GA (PRWEB) April 29, 2013
Atlanta-based CBT News – (Car Biz Today) – serves as an online resource dedicated to the provision of the latest news and information impacting sales, service, fixed ops, finance and more for the retail automotive industry across North America. Engineered for and targeted specifically to members of the retail automotive industry, this dedicated online news source is proud to announce its new affiliation with Automotive Digest, a premier digital magazine that is highly respected among industry leaders.
"In addition to daily broadcasts, CBT News also provides a regular rotation of articles that include automotive news and updates, tips for sales training and recruitment, marketing and motivational tools, trends in service, sales and parts, and more," explained Bridget Everett, Managing Editor for CBT News. "Automotive Digest shares our passion for delivering up-to-the-minute news and information that offers something of value for everyone from the showroom to the service bays. Automotive Digest founder Chuck Parker and his team have served as key components in delivering news to dealerships across the country for many years. We are thrilled to team up with Automotive Digest as we continue our mutual goal of bringing dealers the information they need to succeed through quality production video content and expertly-researched articles."
Chuck Parker, Founder & Publisher for Automotive Digest, states "We couldn't be more thrilled about and inspired by our partnership with CBT News and their management team. In fact, subscriber-readers of Dealer Digest Daily and Automotive Digest report that our recent integration of CBT News' news-and management-focused content is contributing to a richer, more engaging daily rundown of industry news and events. The robust infographic format of CBT News – combined with our multiple editorial and video e-newsletter platforms at AIN Media – gives readers & viewers at dealerships and industry companies across the country the benefit of daily live webcast coverage, combined with the increased frequency & depth of concise, actionable daily news from the two industry leaders."
The alliance between CBT News and Automotive Digest will entail frequent contributions to CBT News' lineup by talented Automotive Digest reporters and re-broadcasts of CBT News programming featuring award-winning broadcasters on AutomotiveDigest.com. For industry news and information from both Automotive Digest and CBT News, members of the media and retail automotive industry are invited to visit their websites at http://www.automotivedigest.com and http://www.cbtnews.com.