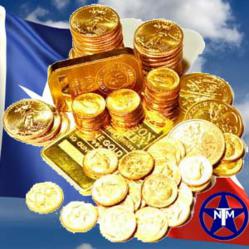 The fiscal chickens are coming home to roost. HB 3505 represents an opening salvo in Texas' fight to regain control of our economic destiny.
Austin, Texas (PRWEB) April 30, 2013
Members of the Texas Nationalist Movement joined others from around the state on Monday in flooding the state capitol with calls indicating their support of House Bill 3505 by State Representative Giovanni Capriglione.
The bill, which has drawn a designation as a "legislative priority" of Gov. Rick Perry, would create the Texas Bullion Depository, a state-based bank to house $1 billion worth of gold bars owned by the University of Texas Investment Management Co. and presently stored by the Federal Reserve.
"A key component of the economic mission of the Texas Nationalist Movement is the promotion of monetary policies that support the independence of Texas," TNM president Daniel Miller said.
The organization sent out social-media and e-mail messages to members urging them to call with their support of the bill, which was scheduled for a hearing Tuesday bu the House Appropriations Committee's Sub-Committee on Budget Transparency and Reform.
Capriglione expressed excitement Monday in a Facebook post noting the bill would finally receive a hearing.
Miller welcomed the hearing, but noted the bill's progress has, thus far, been slowed by "politics and misplaced priorities."
"In short, they need to hear from the people that this is a priority. Even with Governor Perry's very public support of this bill, the process has ground to a halt in the Texas House," Miller said. "The House leadership are committed to a 'Casper Milquetoast' session so that any potential opposition in the next election cycle will have no controversy with which to challenge them.
"As the Federal Government continues to actively attack the sovereignty of Texas and our rights are discarded like yesterday's garbage, the Legislature is looking to avoid pain now and in the next election," Miller said. "That's why it's important that Texans get the word out immediately that we want our gold back."
In plain language, the bill essentially creates a means for intergovernmental transactions to occur in precious metals. Taxes could be paid in precious metals and it would allow people who receive payments from the government to elect precious metals for payment. It would also allow normal citizens to open an account and deposit their precious metals in the state depository. They could then use the electronic system to make payments to any other business or person who also hold an account.
All metals would be redeemable on demand. Fractional Reserve banking would be prohibited as well as all other types of banking or investment with the deposits.
Miller said the most important reason this bill needs to be passed is to reflect Texas' lack of faith in Washington.
"It's simple. The fiscal chickens are coming home to roost. It is absolutely no secret that the Federal government and the economic system that they have imposed is on the verge of collapse," he said. "This bill represents an opening salvo in Texas' fight to control its own economic destiny."
TNM is urging its members to contact State Rep. Jim Pitts (Chairman of the Texas House Appropriations Committee) at (512) 463-0516, as well as Perry's office at (512) 463-1782 and the office of Lt. Governor David Dewhurst at (512) 463-0001.
"There is a groundswell of support as people wake up and realize that this is our chance to begin re-claiming our sovereignty," Miller said. "The TNM is committed to leading the charge to break the back of legislative complacency."
The Texas Nationalist Movement is the largest and oldest organization working for the political, cultural and economic independence of Texas.