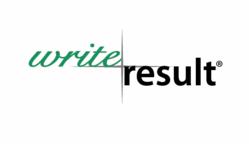 Cranford, NJ (PRWEB) April 30, 2013
WriteResult, leading provider of clinical data management solutions, will be exhibiting at CBI's 10th Forum on Patient Reported Outcomes (PRO) event from May 6-7 at the DoubleTree Hotel Center City. Visitors to the WriteResult booth will have the opportunity to see live demonstrations of the company's innovative digital writing ePRO solution, which is currently being implemented in over 7 Phase II and III clinical studies this year. This instinctive technology along with quality, ready-to-analyze data delivered by WriteResult has proven to be a cost- and time-saving solution for Sponsors—reducing the time between study start-up and database-lock, employee productivity and overall trial efficacy.
The 10th Forum on Patient Report Outcomes event will benefit those professionals specializing in clinical areas such as Outcomes Research, Data Management, Patient Compliance, Study Management and Operations. The agenda features speakers from top tier pharmaceutical companies such as Novartis and Pfizer.
For more information on this event, please visit CBI's website.
About WriteResult
WriteResult offers full-service data management solutions for clinical research through the collection and verification of ePROs leveraging digital pen and paper technology. Since 2006 WriteResult has partnered with study sponsors to deliver a simple and effective ePRO solution — rapid study startup with clean, real-time data using a technology that's intuitive for sites and patients.
For more information about WriteResult, please email solutions(at)writeresult(dot)com or call (908) 272-4787.