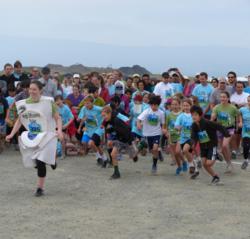 Stopping a running toilet at this race was a hoot, but the real payoff comes if you stop a running toilet at home. Then you save big bucks on your water bill!---Debra Katz, Palo Alto Utilities
Palo Alto CA (PRWEB) April 29, 2013
With over 230 participants of all ages, and dozens of supporters cheering them on, Palo Alto's Great Race for Saving Water lived up to its titular promise to be "great!"
Everyone out at the Baylands was buzzing with excitement by the time Vice-Mayor Nancy Shepherd kicked off the 5K run/walk at 9am on Saturday. Phillip Reid, Men's Cross Country Runner on the Olympic Team USA was on hand for inspiration and runners included City Manager Jim Keene along with a scores of toddlers in tow, speedy school-agers, triumphant teens, athletic adults and spirited seniors.
But the real stars of the day were the scores of youngsters who showed up not only to run the race, but also to decorate the grounds with "water conservation tips" signs, displays and game booths and more, reminding all in attendance that taking care of our water resources today is a gift to the next generation.
The City of Palo Alto Utilities sponsored the race, with its partner the Tuolumne River Trust. Other water-related agencies ranging from the Santa Clara Valley Water District to Canopy, Acterra and the Sierra Club (to name just a few) all had booths overflowing with information and giveaways---all of which added to the event's environmental good karma. The musicians playing along the route, the "bike tune-up" station for those who'd cycled to the event, Hobees coffeecake and the picture-perfect weather were all additional bonuses!
Whether or not you were part of this wonderful water-worshipping event last Saturday, you can find easy ways to improve water-efficiency without sacrificing comfort or convenience EVERY DAY at the City of Palo Alto's website.
This was the kind of race where everyone was a winner, but for those who want the stats:
1st Place: #205 Neville Davey 15 mins 55 seconds
2nd Place: #234 Elliot Wright 17 mins 44 seconds
3rd Place: #206 Heather Tanner 18 mins 13 seconds
4th Place: #65 Samuel Erickson 19 mins 11 seconds
5th Place; #81 Jose Antonio Fernandez-Divar 19 minutes 18 seconds
There are many photos on Twitter #GreatRace or contact me for more photos, high or low resolution.