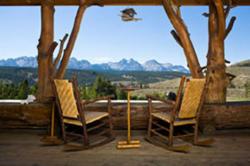 "Idaho is one of our least populated states (a boon for nature lovers) and with its dramatic geographic features, it's surprising that we have not yet featured this stunning western state as one of our destinations." – Peg Abbott, owner
Coeur d'Alene, ID (PRWEB) April 30, 2013
Naturalist Journeys, a top nature and birding tour company, is proud to announce their upcoming July 7-15, 2013, Idaho: A Nature Adventure Tour.
The eco-tour company owner Peg Abbott could not be more pleased how the tour came together after extensive planning. She says, "As this will be a first trip to Idaho for many of our regular clients, the first four nights are designed to provide a sample of what the state has to offer. Our plan is to drive the length of the state, beginning in Coeur d'Alene and ending in Boise. Our time in Idaho's most northern city centers on its namesake lake where we can hike and boat, surrounded by nature. Stops along our route south include the Appaloosa Horse Museum near Moscow and McCall, where tour participants enjoy lodgings at the historic Shore Lodge on beautiful, glacier-carved Payette Lake." The final nights will be spent at the gracious Idaho Rocky Mountain Ranch, with lovely accommodations and fine dining. Included is a float trip and horseback riding. Hiking opportunities abound, and possible wildlife sightings include pronghorn, black bear, and elk.
Abbott herself leads Naturalist Journey's inaugural tour to Idaho, and she terms this a "reunion trip;" an opportunity for Naturalist Journeys clients, old and new, to relax while they learn about a new place.
Find full details of Naturalist Journeys' Idaho: Rockies and Rivers Nature and Adventure tour at: http://www.naturalistjourneys.com/jcalendar/jc_ID13.htm.
More about the July 7 – 15 Idaho Nature and Adventure tour
This week-long nature and adventure tour begins in Fort Spokane, WA and departs from Boise, ID. The tour is limited to twelve participants.
More about Naturalist Journeys:
Naturalist Journeys LLC, a top birding and nature tour company, offers specialty small group travel worldwide, from the western U.S. to Alaska, Hawaii and Florida, Costa Rica, Panama, safaris in Africa and more. Naturalist Journey's guided nature and birding tours feature expert guides with decades of experience in bird-watching, travel photography and other forms of eco-tourism. Naturalist Journeys also offers hiking and adventure travel tours in many national parks and wildlife reserves, including the Galapagos, Antarctica and the Amazon.