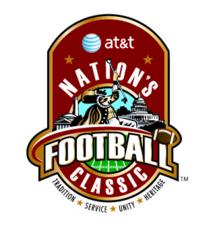 Washington, DC (PRWEB) April 30, 2013
The countdown begins! Events DC announced today that tickets for the third annual AT&T Nation's Football Classic® go on sale at 10 a.m. on Friday, May 3 at Ticketmaster, the Howard University Box Office at Cramton Auditorium and the Morehouse College Bookstore. The Howard Bison meet the Morehouse Maroon Tigers on Saturday, September 7 at RFK Stadium at 3:30 p.m.
All lower bowl tickets are $25 and mezzanine tickets are $50, plus applicable fees. EARLY BIRD SPECIAL: Lower bowl tickets are $20 from May 3-31 (while supplies last). Group sales for 50 or more begin June 1.
"Given the thrilling late-game finishes between Howard and Morehouse the last two years, we look forward to another competitive matchup in this year's AT&T Nation's Football Classic®," said Erik A. Moses, managing director of Events DC's Sports and Entertainment Division. "Fans and alumni can take advantage of great price offerings starting this Friday, with very affordable lower bowl tickets and competitive room rates at premier Marriott properties."
The Howard University Box Office at Cramton Auditorium is open Monday through Friday from 10 a.m. to 6 p.m. (2455 Sixth Street, NW. Washington, DC 20059). The Morehouse College Bookstore is open Monday through Friday from 9 a.m. to 5 p.m., and Saturdays from 10 a.m. to 2 p.m. (830 Westview Drive, Atlanta, Ga. 30314).
Marriott will once again serve as the "Official Lodging Partner" for the AT&T Nation's Football Classic®, resuming a successful partnership that offers Classic attendees discounted hotel room rates for an impressive portfolio of properties around the city. The JW Marriott Washington, DC is the headquarters hotel, and will serve as the hub for AT&T Nation's Football Classic® activity during the weekend. Other participating properties include the Washington Marriott at Metro Center, Renaissance Washington, DC, Courtyard US Capitol, Courtyard Embassy Row and The Mayflower Renaissance. Hotels can be booked by visiting http://www.nationsfootballclassic.com. All hotels are discounted an additional $10 through June 30.
In addition to the football game, there are several free events that will be held throughout the weekend including the AT&T Kickoff Rally, Pepsi® Fan Festival, Presidential Symposium, Morehouse vs. Howard Student Debate, Chapel Service and Alumni Mixer.
For more information on the AT&T Nation's Football Classic®, please visit http://www.nationsfootballclassic.com.
About the AT&T Nation's Football Classic®
The AT&T Nation's Football Classic® is a black college football game held annually at RFK Stadium in Washington, D.C. This year, the game features Howard University against Morehouse College. Organized by Events DC, the AT&T Nation's Football Classic® was created to celebrate the passion and tradition of the college football experience, recognize the history of service to others by the students, faculty and alumni of historically black colleges and universities, highlight the unity of African American culture, and honor the heritage and excellence of these proud institutions.
About Events DC
Events DC, the official convention and sports authority for the District of Columbia, delivers premier event services and flexible venues across the nation's capital. Leveraging the power of a world-class destination and creating amazing attendee experiences, Events DC generates economic and community benefits through the attraction and promotion of business, athletic, entertainment and cultural activities. Events DC oversees the Walter E. Washington Convention Center, an anchor of the District's hospitality and tourism economy that generates over $400 million annually in total economic impact, and the historic Carnegie Library at Mt. Vernon Square. Events DC manages the Stadium-Armory campus, which includes the historic Robert F. Kennedy Memorial Stadium and surrounding Festival Grounds, and the non-military functions of the DC Armory. Events DC also built and now serves as landlord for Nationals Park, the first LEED-certified major professional sports stadium in the United States. For more information, please visit http://www.eventsdc.com.