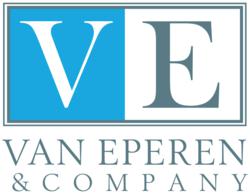 Rockville, Md. (PRWEB) April 29, 2013
Van Eperen & Company (VE & Co.), http://www.veandco.com, an award-winning strategic communications firm in Rockville, Md. welcomes Erin Uy as the newest addition to its growing team of media and public relations professionals.
Uy has more than 10 years of experience in the media and communications field, most of which has been within the Washington, D.C. metropolitan region. At VE & Co., Erin will work with government, corporate and non-profit clients, communicating to their key audiences and building brand value, while establishing credibility and maintaining organizational awareness.
"Erin Uy has experience in strategic communications, brand management and public relations," said Laura Van Eperen, CEO, Van Eperen & Company. "She and has a great ability to tell compelling stories and deliver impactful messages to a variety of audiences and is a great addition to the VE & Co. team."
Uy has a journalism background, having covered topics such as education, economic development, local and federal government, transportation and human interest. She worked previously for Education Daily, a policy-focused newsletter with Florida-based LRP Publications; The Orange County Register, an award-winning daily newspaper based in California; and The Gazette, a weekly community newspaper chain of The Washington Post Co.
Uy earned her B.A. in Journalism from the University of Maryland, College Park.
# # #
About Van Eperen & Company
Van Eperen & Company is an award-winning strategic communications consulting firm. As a woman-owned MBE and MDOT-certified business, VE & Co. is authorized to provide professional services to the government through the GSA schedule. Founded in 2004 to deliver exceptional results to clients, the company holds steadfast to its commitment to exceeding client expectations, while keeping ethics and social responsibility at the forefront of every endeavor. For more information, visit http://www.veandco.com.