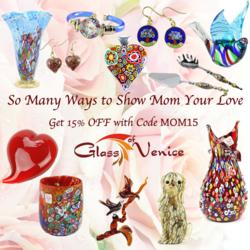 For those in the know, an exclusive GlassOfVenice sale provides an incredible opportunity to purchase even the most opulent authentic Murano Glass at prices well below those in Venice.
Glen Rock, NJ (PRWEB) April 30, 2013
GlassOfVenice.com, an online store specializing exclusively in import and global distribution of Authentic Murano Glass, announces its famous Mother's Day Sale event. During this event, which ends on May 12th, 2013, customers can get 15% off all Murano Glass pieces, including coveted vases and chandeliers, by using coupon code MOM15 during checkout.
Mother's Day is a wonderful holiday, when mothers are celebrated for the love, care, and nurturing they bestow upon their precious children and grandchildren. Mother's love is an amazing gift, and while it can never be matched, the least we can do is to show our love and appreciation with a unique and meaningful gift to celebrate our mothers on their special day. Rare beauty, artistry, and style of Murano Glass, its special connection with the romance and glamour of Venice, and of course the love that Venetian artisans pour into their creations, make a gift of Murano Glass an ideal choice for any mom on Mother's Day.
With a selection of almost 2,000 gorgeous pieces of Murano Glass, including jewelry, personal accessories, ornaments, tableware, barware, vases, sculptures and chandeliers, GlassOfVenice.com offers unparalleled choice of unique gifts bound to satisfy even the most discerning woman. Each piece is handcrafted by some of the most talented artisans on the island, and reflects not only the skill and fancy of the master glassmaker but also the unique artistic and cultural heritage of Venice, and no two pieces are the same. With almost 1600 years of history, much of it spent in wealth and opulence, and well-deserved worldwide fame of a must-see tourist destination, Venice has been a magnet for people from all over the world for centuries. In today's fast-paced world, where time is money and visiting Venice is not always an option, GlassOfVenice.com has found a way to bring its aura of mystery, its rare beauty, and the romance that permeates the air straight to its customers with Murano Glass pieces that can be treasured for generations.
Finding handcrafted artistic pieces of jewelry or home decor is becoming increasingly difficult in our globalized world, and those that are available are usually priced to be accessible only to the wealthy. GlassOfVenice makes Murano Glass affordable offering very competitive prices starting with just under $15 for a pair of earrings. But for those in the know, an exclusive GlassOfVenice sale provides an incredible opportunity to purchase even the most opulent authentic Murano Glass at prices well below those in Venice. This means that customers who make their purchase on GlassOfVenice.com by May 12th will make the right choice of Mother's Day gift at the right price.
About GlassOfVenice
GlassOfVenice is a U.S.-based company focusing solely on direct import and worldwide distribution of authentic Murano Glass. The company was founded by visionary businessmen with passion for Italy and Venice and appreciation of Venetian artistic heritage, which today can be best seen in its famous Murano Glass. GlassOfVenice imports all its products directly from Murano Italy and offers the full range of Murano Glass produced by the Island's artisans from jewelry and accessories to tableware and home décor, including vases, sculptures, and chandeliers. The products can be purchased on the company's full-featured and user-friendly website http://www.GlassOfVenice.com. Paypal and all major credit cards are accepted and worldwide shipping is available from the U.S.-based warehouse.