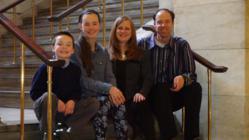 "The BPOR designation allows me to better serve the residents of North Ogden City"
North Ogden, Utah (PRWEB) April 30, 2013
"Not only did Robert Bolar achieve a specific level of performance by successfully marketing Utah luxury properties, but he completed a thorough certification course that focused on market analysis of luxury homes, developing and implementing market plans, product knowledge and utilizing the national Association of Realtors resources to find the right buyer for an exceptional property," said Jared Payne, office manager of Coldwell Banker Residential Brokerage Ogden.
The current North Ogden City housing market presents many challenges to our real estate industry, few more important than valuation. Evaluating properties depends more than ever on professional expertise and competence, the best use of technology, and a commitment to approach the valuation assignment from all pertinent perspectives. "BPOs: The Agent's Role in the Valuation Process" is specifically designed to help residential real estate agents and brokers enhance their skills in creating BPOs, reducing risk, and applying alternative valuation techniques.
Bolar is a specialist in residential real estate who has been affiliated with Coldwell Banker Residential Brokerage Ogden for many years. Bolar is a trained and seasoned real estate professional. Robert Bolar has been serving the top of Utah for over 20 years. Robert has earned the Accredited Buyer's Representative (ABR), Broker Price Opinion Resource (BPOR), Certified Residential Specialist (CRS), Graduate Realtor Institute (GRI), Internet Real Estate Professional (e-PRO) Robert is also a Certified State of Utah Real Estate Instructor. Robert has a well-rounded education and demonstrates passion in his work.
OwnUtah.com, a leading residential real estate website in Utah. OwnUtah.com has listings on it from more than 9,000 sales associates serving the communities of the greater Wasatch Front. The company offers residential and commercial brokerage, corporate relocation and mortgage services available on the site. Through its internationally renowned Coldwell Banker Previews® program, the company is widely recognized for its expertise in the luxury housing market. Visit Coldwell Banker Residential Brokerage, online at http://www.OwnUtah.com For more information, please visit http://www.OwnUtah.com or call Robert Bolar at 801-737-3333.
# # #