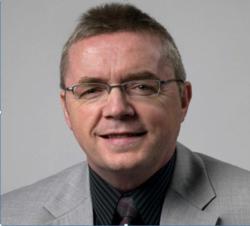 John's professional experience in sales and working with key market sectors fits nicely with our corporate direction. We are pleased to welcome John to the Global Vision family and look forward to continuing to enhance our presence in Europe
Montreal, CANADA (PRWEB) April 30, 2013
Global Vision, the industry leader in the development of automated proofreading solutions, is pleased to announce the appointment of Mr. John Kerins to its Sales team as Sales Consultant for Ireland.
In this position, John Kerins' primary responsibilities will be to build, drive, lead and support customers in Ireland. With that, Global Vision is focusing on the business development in this region, which is a major growth market, especially for QCanywhere cloud-based document, print, and artwork inspection apps.
Before joining Global Vision, Mr. Kerins worked in sales and distribution for a variety of industry leaders in the pharmaceutical, food, technology and consumer package goods companies. He has a proven track record introducing new solutions to the Irish market.
"John's professional experience in sales and working with key market sectors fits nicely with our corporate direction. We are pleased to welcome John to the Global Vision family and look forward to continuing to enhance our presence in Europe," said Reuben Malz, President of Global Vision.
Start your Free trial today
To start a free 7-day trial, visit QCanywhere today and experience the new revolution in quality control. Please use promo code: QC7day
About QCanywhere
QCanywhere is a cloud-based business application bundle (QCapps) that is simple to access from any device. It is the first cloud-based solution for Quality Control of text, artwork, Braille, barcodes and print. Designed for brand owners and professionals across multiple industries such as Financial, Pharmaceutical, Media, Consumer Goods and Legal, QCanywhere enables businesses to inspect documents regardless of geographic location. Reports can be generated and shared by e-mail to collaborate on quality and dramatically reduce approval cycles and time-to-market.
For more information please visit http://www.QCanywhere.com
About Global Vision
Global Vision is the world leader in the design and delivery of automated proofreading solutions. Its complete suite of advanced solutions featuring text-based, pixel-based and Braille inspection technologies are designed to eliminate printed artwork, text verification, and text comparison related errors, providing end-to-end security at every stage of the workflow process.
Global Vision solutions are widely interoperable and have received commercial endorsement from the world's leading Pharmaceutical, Consumer Packaged Goods (CPG), and Artwork Management companies.
Headquartered in Montreal, Canada, Global Vision has worldwide representation. For more information, please visit http://www.GlobalVisionInc.com