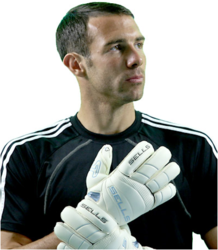 "This is fantastic, it's different to anything I've come across and I have no doubt this will have a positive impact on goalkeeping everywhere." Ben Foster, Manchester United, West Bromwich Albion, and England Goalkeeper.
Birmingham, UK (PRWEB) April 30, 2013
To succeed in today's fast paced and demanding world of soccer, a goalkeeper needs two crucial things: great technique and functional fitness. Functional fitness is a person's physical condition for the actual movements and actions they complete in a match. Being able to bench press 200kg is not one of them.
Originally released in DVD format only, and just for the UK market, Richard Lee's "GK Icon Workout" is the product of lengthy and focused development, and has been specially designed to address a goalkeeper's technique and fitness in one unique footballing package.
Now, Bennion Kearny is delighted to announce the release of the GK Icon Workout in download form, for the first time, for a global audience. Designed to improve a goalkeeper's keeping skills and overall physical shape, it is destined to become a key part of goalkeeper training for players looking to succeed and excel in this most demanding of positions.
The video aims to teach viewers how to:

Train like a Professional Goalkeeper when away from the Training Pitch.
Develop Specific Goalkeeping Movements and Boost Functional Fitness.
Improve Power Output and Muscle Memory for Basic and Advanced Technical Movements.
The workout program is designed for all ages and abilities, and there are six main sections: Warm Up, Cross Taking, Shot Stopping, Fitness, Distribution, and Flexibility, all of which are designed to help develop goalkeeping properly and effectively. Comprised of various goalkeeper drills there is a particular focus on footwork, spring patterns, increased power output, and improved accuracy of distribution. In turn, there is a special bonus section on skipping for improving cardiovascular fitness and footwork speed further.
About the Creator: Richard Lee is a former England Under-21 goalkeeper who spent 10 years at Watford FC and who now plays for the London team: Brentford FC. Richard is also one of the founders of the GK Icon Goalkeeping Academy, and author of the acclaimed book:
"Graduation: Life Lessons of a Professional Footballer". Richard has appeared on the television programme 'Dragon's Den' where he pitched for investment in his headwear company "Dr Cap". Dr Cap is now one of the UK's leading baseball cap retailers.
Download Details:
Format: MP4 Video Download
File size: (805Mb)
Running Time: (59 minutes)
Cost: $15.99
About Bennion Kearny
Bennion Kearny is a UK based media house developing eLearning and video content, as well as more traditional book titles for the print and ebook markets. Recent book titles have included:
Reoffending: A practitioner's guide to working with offenders and offending behaviour in the Criminal Justice System A book aimed at readers beginning their careers of working with offenders in the Probation Service and Youth Offending Service. It examines how offenders enter the Criminal Justice System, and the working relationship between the offender and the practitioner. It goes on to cover specifics such as working with individuals who misuse substances, domestic abuse, violent offenders, and working with offenders with emotional problems.
Around the World in 80 Scams: an Essential Travel Guide A practical, focused, and detailed guide to eighty of the most common scams and crimes travellers might encounter. It is packed with real-world examples drawn from resources across the globe and the author's own travels. Content includes: transport, eating, drinking, begging, ATM and shopping scams. This book is for anybody who travels and wants to avoid being scammed.
Ace the Sale! a Practical Methodology for Selling B2B Enterprise Software, Hardware or Services A no nonsense guide, uniquely written for the busy sales rep. Using a golf course analogy, this book takes each hole as a must-do step in the sales cycle. There is clear instruction on everything the sales rep needs, including how to raise Emotional Intelligence and better connect with prospects, understanding how to price deals, recognising when to 'walk away', what reference visits should accomplish, developing dynamic presentations skills, and more.
For all media enquiries and review downloads, please contact:
Adam Walters [Adam(at)BennionKearny(dot)com]
Bennion Kearny Ltd
6 Victory House
64 Trafalgar Road
Birmingham
B13 8BU
United Kingdom