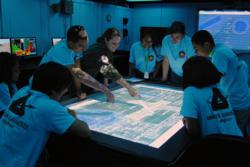 This is by far one of the best academic experiences I've ever had..this program is an innovative way to instill math and science skill in youth across America.
Julius Wade
Pensacola, FL (PRWEB) April 30, 2013
The National Flight Academy located in Pensacola, Florida is now accepting scholarship applications for its Ambition in-resident summer camp program for 7th-12th graders to attend one 5 ½ day summer session this year. The scholarship application is available online at http://www.nationalflightacademy.com/scholarship and is open to all youth that have not received an NFA scholarship in the past and will enter 7th-12th grade for school year 2013-2014. A limited number of scholarships are available.
Attendees will live aboard the virtual aircraft carrier, Ambition, where they will experience an immersive, aviation-based adventure that is revolutionizing STEM (Science, Technology, Engineering & Mathematics) education. It starts with an immersive, aviation-based story that weaves STEM learning objectives with important 21st century skills including critical thinking, problem solving, teamwork and communication. It all leads to an unparalled learning experience for our leaders of tomorrow.
Registration for summer 2013 sessions is now open online at http://www.nationalflightacademy.com. For more information please call 850-458-7836 or 877-552-3632 or info(at)nationalflightacademy(dot)com.
About the National Flight Academy:
The National Flight Academy opened in May 2012. Students and business professionals from 35 states and three countries attended various educational and corporate programs last year. Located next to the National Naval Aviation Museum aboard NAS Pensacola, the National Flight Academy's 102,000 square foot facility is designed as a virtual aircraft carrier that provides the back drop for an aviation-based program that is revolutionizing STEM education for 7th-12th graders and professional development for corporate groups. The National Flight Academy, a program of the Naval Aviation Museum Foundation Inc., is authorized but not endorsed or funded by the U.S. Navy or U.S. Government.
##
Please contact Shelley Ragsdale, Director of Marketing and Public Relations, via email at sragsdale(at)navalaviationmuseum(dot)org for more information.
###