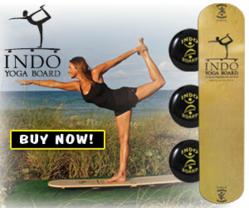 Indian Harbour Beach, FL (PRWEB) April 30, 2013
Hunter Joslin, owner/founder of the Indo Board Balance Trainers® - http://indoboard.com, announces the release of the latest balance board innovation, the Indo Yoga Board™ - http://indoboard.com/yoga. This design concept was inspired by the highly popular new activity of practicing yoga on a stand up paddle (SUP) board, also referred to as "SUP Yoga". Joslin saw a need for a land-based version of this growing water-oriented yoga program. The Indo Yoga Board™ allows for anyone to experience this dynamic form of "unstable yoga" in a studio, gym or at home.
The Indo Yoga Board™ - http://indoboard.com/yoga - is a safe, user-friendly, unstable platform on which one can perform yoga poses. Recognizing the need to create a product which appeals to all levels of yoga skill, Joslin designed this unique board to have multiple levels of instability, thus accommodating all users from beginners to the most advanced yoga practitioners.
The design of the board features four rockers that are attached to the bottom of the six foot long, fifteen inch wide board. These four rockers provide the instability necessary to completely change the way yoga is practiced. The resulting instability challenges the user to engage significantly more muscles during each pose and to realize any imbalances or imperfections that might exist in the users form. The result is a much higher level of muscle activation and a yoga experience that encourages the user to slow down and focus on perfecting each pose through proper form and increased muscle activation.
Once the user has met the initial challenge in using the Indo Yoga Board™ - http://indoboard.com/yoga - on the rockers, additional instability can be added by placing three, easily adjustable IndoFLO® cushions under the deck. The IndoFLO® cushions are mouth inflatable and do not require a pump. The level of inflation of the three IndoFLO® cushions can be quickly adjusted to increase the instability further by adding air to the cushions or decrease the instability by taking air out of the cushions.
Yoga expert Kristin McGee, one of the first to try an Indo Yoga Board™ prototype, exclaimed, "I have to be perfect" as she marveled at the intense new challenge presented by the board. Indo Yoga Boards™ have since been put into practice at many yoga studios across the country.
The Indo Yoga Board™ - http://indoboard.com/yoga - is one of the most innovative yoga products available today and is quickly adding a new dimension the way yoga is practiced. The Indo Yoga Board™ is available at select yoga studios, stand up paddle retailers or online at http://indoboard.com.