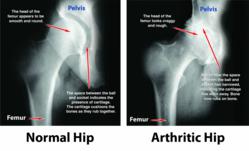 Not only did I get my life back, I improved it!
Clearwater, FL (PRWEB) April 30, 2013
In the past, total hip replacement was the best answer for advanced hip arthritis. This surgical procedure usually results in several months of physical therapy and a long road to full recovery. But, there is good news for bad hips! The experienced doctors at The Florida Knee and Orthopedic Centers have implemented a minimally-invasive alternative to the traditional total hip replacements, called hip resurfacing. This minimally-invasive procedure requires no blood transfusions, no hospital stay, no physical therapy and even more benefits that are not available to patients that undergo total hip replacements.
Hip resurfacing can be an excellent alternative to traditional hip replacement. This procedure uses a metal cup to replace the damaged hip socket and a metal cap that covers the femoral head bone. Both parts are made from highly polished metal, commonly called a metal-on-metal hip resurfacing device. The damaged portions of the bone are resurfaced rather than being totally removed with a hip replacement. This allows for the retention of the healthy part of the hip bone instead of replacing the entire joint. It also makes it easier for the surgeon to structure the replacement parts closer to the original bone size which provides a better fit and a more stable joint.
Many advantages exist for a hip resurfacing compared to hip replacements in the past. Clinical studies that have evaluated the effectiveness, results and safety of hip resurfacing show that 95% of the patients have had good to excellent results from this hip surgery. This minimally-invasive surgery requires a much smaller incision and self-dissolving sutures that are hidden underneath the skin. No blood transfusions, hospital stays, motion machines or physical therapy sessions are some of the main reasons that patients are becoming more and more interested in hip resurfacing.
Major benefits of hip resurfacing include:

No blood transfusions
No hospital stay
No physical therapy
No sutures to remove
Smaller incisions
Regain a greater range of motion
Faster recovery
An orthopedic surgeon will help decide if hip resurfacing is the best solution for a patient's hip pain problems. Using modern-day surgical techniques combined with advanced implants, there are many advantages that exist compared to the traditional hip replacements of the past. Hip resurfacing can be a less invasive alternative to hip replacements and will provide the patient with the benefits of needing no blood transfusions, no hospital stays, no physical therapy, hidden self-dissolving sutures, smaller incisions, and more. This minimally-invasive procedure also has the potential for better longevity of the hip and carries a 95% good to excellent success rate. "Not only did I get my life back, I improved it!" states a patient when asked about her hip resurfacing surgery.
About Hip Resurfacing
Hip resurfacing is a surgical procedure that was designed to relieve hip pain without the need for a total hip replacement. Surgeons can diagnose hip pain and hip arthritis to determine whether hip resurfacing is an option for patients who would otherwise be treated with a total hip replacement. It is most commonly appropriate for younger, active patients. Patients that have good bone quality but suffer from osteoarthritis or rheumatoid arthritis may benefit from this type of surgery. Learn more about hip resurfacing at http://fla-ortho.com/services/your-hips/.
About The Florida Knee and Orthopedic Centers
The Florida Knee and Orthopedic Centers, established in 1983, has a national reputation for excellence in orthopedic innovations and state-of-the-art surgery. A team of orthopedic specialists treat patients at two locations on Florida's Gulf Coast. The Florida Knee and Orthopedic Centers is a multi-site group orthopedic surgical practice specializing in knee, hip and shoulder problems with an emphasis on joint resurfacing (replacement) and arthroscopy. Learn more about this orthopedic practice by visiting their website at http://www.fla-ortho.com/.