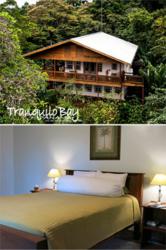 Isla Bastimentos, Bocas del Toro, Panama (PRWEB) April 30, 2013
Tranquilo Bay immerses its guests in one of the most biologically diverse places on the earth. It is located on Isla Bastimentos, adjacent to Bastimentos National Marine Park. The property is over 200 acres and includes over a kilometer of Caribbean coastline. This coastline is covered in coral gardens teaming with tropical fish. On land, there are over two miles of hiking trails and a 63-foot canopy observation tower. At least 75% of the acreage has been left to evolve in its natural state. The number of species of flora and fauna, the acres of tropical rainforest and primary growth mangrove forest, incredible coral reef, and the Caribbean Sea are all part of Tranquilo Bay's natural infrastructure.
Tranquilo Bay considers nature to be one of its biggest assets. Tranquilo Bay has intentionally created a nature preserve in order to conserve and sustain wildlife in Bocas del Toro. Preserving its natural infrastructure so that guests may participate in eco-adventures such as birding and wildlife watching, hiking, snorkeling the coral reef, or kayaking on site is one of Tranquilo Bay's primary initiatives.
Nature in combination with a deluxe cabana is the perfect exploration base camp for guests at this eco lodge and hotel. Tranquilo Bay has six deluxe air-conditioned cabanas. Three of the cabanas have a queen bed and three have two double beds. Four of the cabanas have an ocean view and two have a jungle view. The interior of each of the cabanas is tastefully and comfortably appointed with local hardwoods, tile floors, fine linens and a calming color palette. Tranquilo Bay also has twin beds that can be added into a cabana for children. Reading lamps and various books are also found within each bedroom. Each cabana's bathroom has a spacious granite countertop and a large walk-in shower with a full size water heater.
Tranquilo Bay's canopy observation tower opened in January 2013. It was built to fulfill the needs of birding and wildlife enthusiasts who desired access to the most exciting and vibrant part of the forest, the canopy. On the tower, one might see birds openly feed on fruits and seeds, monkeys forage in treetops, iguanas seek energy from the sun, or sloths and constrictors search for their next meal. The tower gives all guests a vantage point of the canopy that is just not possible from below.
The main lodge building is situated on a beautiful hilltop, with panoramic views of the canopy. A wrap around elevated porch provides outstanding eye-level views of all the magic where the ocean and mangrove forest meet the rainforest. This upstairs balcony is the perfect place to watch the sunrise with morning coffee and the moonrise in the evening with a cold beverage. The monkeys and birds travel through the forest here on their late afternoon feeding migration. The interior of the main lodge building includes the dining room and the bar.
Delicious, handcrafted meals are included with each of Tranquilo Bay's packages. They use local fruits, vegetables and chocolate to craft meals the entire party finds delicious. Tranquilo Bay asks for information in advance on any food preferences or allergies in order to please both those with dietary requirements and picky eaters during their vacation. Guests may eat everything at Tranquilo Bay. The lodge does not have any issues with its water, thus no traveler's illnesses. All of the lodge's water is rainwater. It goes through 5-micron filtration and UV light prior to entering any building. All of the water inside the buildings goes through this same treatment. The water is safe to drink. The lodge's staff washes and/or peels fruits and vegetables so that guests are free to eat whatever they like.
For more information on how to book a family adventure vacation at Tranquilo Bay, please contact Tranquilo Bay.
About Tranquilo Bay:
Tranquilo Bay is an owner-operated eco adventure lodge located on Isla Bastimentos, Bocas del Toro, Panama adjacent to Bastimentos National Marine Park. The lodge has over a kilometer of Caribbean coastline covered in coral gardens teaming with tropical fish. Facilities encompass over 200 acres, a canopy tower, and over two miles of hiking trails full of wildlife.