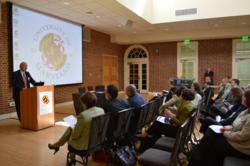 The US-Russia Innovation Corridor represents the type of effective collaboration between state governments and private industries, with universities as the driving force, that can be a central vehicle for innovation-based regional economic development.
Washington, DC (PRWEB) April 30, 2013
Members of the U.S.-Russia Bilateral Presidential Commission/Innovation Working Group gathered at the University of Maryland in College Park and Baltimore on April 26 to discuss new international collaborations in the area of bio-medical research, as well as to mark the next phase in the development of a multi-year program (2013-17), Enhancing University Research and Entrepreneurial Capacity (EURECA), funded by the U.S. Russia Foundation and administered in the U.S. by American Councils for International Education. EURECA's funder, the U.S. Russia Foundation for Economic Advancement and the Rule of Law (USRF) has approved American Councils and three Russian organizations to administer the next phase of the project, which develops and fosters new models of scientific and technical cooperation between Russian and American universities.
The US-Russia Innovation Corridor (USRIC), housed at the University of Maryland's International Incubator, is a tangible result of the cooperative relationship between American Councils, the University of Maryland (UMD), the University of Nizhniy Novgorod (UNN), and the state of Maryland and the Nizhniy Novgorod region in the context of the EURECA Program. Based on an initial biomedical focus – an area that UMD and UNN continue to refine and expand - USRIC is a platform connecting Russian research universities and entrepreneurs with their US counterparts while engaging appropriate state and regional governmental structures. UNN's Rector Dr. Evgeny Chuprunov and UMD's Vice President and Chief Research Officer Dr. Patrick O'Shea signed a Memorandum of Understanding to deepen cooperation around biomedical technologies, with placement of projects into USRIC.
"A true 'triple helix' partnership," Dr. Dan E. Davidson, President of the American Councils for International Education noted, "the US-Russia Innovation Corridor represents the type of effective collaboration between state governments and private industries, with universities as the driving force, that can be a central vehicle for innovation-based regional economic development. Maryland and Nizhny Novgorod were uniquely positioned to actualize this collaboration, thanks to their shared history of regional cooperation and the work of their powerhouse research institutions. As the coordinator of USRIC, American Councils has focused its role on reducing the barriers to commercialization partnerships for both countries and cultivating and facilitating new, productive collaborations. As several members of the U.S.-Russia Bilateral Presidential Commission Working Group have pointed out, 'innovation is not just about money and technology. It is about people, networks, and a culture of entrepreneurship.' In envisioning the broad landscape of collaboration, American Councils has recognized that these relationships take place on both a 'macro' level (triple helix regional partnerships around shared clusters), and a 'micro' level (individual startups and research projects that may, themselves, seed larger-scale relationships). By catalyzing new regional collaborations between our nations and responding to shared goals, USRIC advances the objectives of the new EURECA program and extends the substantial benefit of this program to new U.S. and Russian institutions."
USRIC provides assistance to Russian start-up companies and innovative university projects to collaborate with U.S. partners and develop new markets, using the resources of the University of Maryland and the State of Maryland. Applications for service through USRIC will be accepted starting in May 2013. Going forward it will collaborate with other U.S. incubation sites and serve U.S. entities looking for partners in Russia.
The US-Russian Innovation Corridor addresses a key goal of the Innovation Working Group of the U.S.-Russia Bilateral Commission, as both countries seek to support the role of higher education institutions as centers of research, entrepreneurial thinking, and long-term economic development. Besides Nizhny Novgorod and St. Petersburg, Russia's regions were represented by high-level officials from Bashkortostan, Krasnoyarsk Krai, Moscow Oblast, Novosibirsk Oblast, and Samara Oblast.
EURECA
The EURECA program creates collaboration between leading research universities in Russia and the U.S. to strengthen university capacity in applied and translational research and technology transfer, increasing the potential for meaningful research collaborations. The EURECA 1 pilot project (2010-2012) created "triple helix" models for U.S./Russian partnerships that engaged EURECA 1 pilot universities UNN, and the St. Petersburg University of IT, Mechanics and Optics (ITMO), with government, and business/ investors.
American Councils advanced the "triple helix" during EURECA 1, building on a partnership between the state of Maryland and the region of Nizhny Novgorod to cooperate on research privatization in specific industries. EURECA 2 will facilitate additional U.S./Russian industry cluster relationships exercising the lessons of this first model, building sustainable capacity in both the U.S. and Russia.
This will be accomplished by:

Cultivating a culture of entrepreneurialism on campuses
Attracting more business involvement
Strengthening regional development and innovation clusters
Creating more partnerships between research and business communities, and between the US and Russia
In the next two years, American Councils aims to establish two new state/regional partnerships between the U.S. and Russia, as well as to engage four to six companies or innovative projects from Russia in commercialization activity with U.S. institutions.
Partners working in Russia also funded by USRF are focused on trainings and replicating models for capacity building. UNN will continue to develop as an innovative entrepreneurial university working with UMD and Purdue University, and will replicate its model at the Perm National Research Polytechnic University. In collaboration with the Higher School of Economics, and drawing upon experience with UCLA, ITMO will share best practices with several Russian regions in accelerating technologies. New Eurasia Foundation will deliver seminars on entrepreneurship, the university innovation ecosystem, and regional clusters.
About American Councils
A leader in international education, academic exchange, and overseas language immersion, American Councils creates opportunities that prepare individuals and institutions to succeed in an increasingly interconnected world.
For a visual representation of American Councils, watch the Promotional Video.