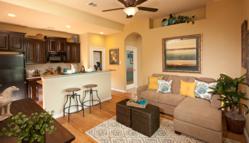 The great thing is that this private suite can be integrated into the main home's living space or kept as a private residence, it's your choice!
Frisco, TX (PRWEB) April 30, 2013
The Community of Crown Ridge in Frisco is introducing the new and incredible Next Gen- The Home Within a Home floor plan. Lennar has recognized the need of individual homebuyers and families to share living expenses. This concept provides a great solution for long-term guests, family members or anyone else who can utilize this innovative space.
The Next Gen suite at Crown Ridge includes a separate entrance with a private living room, kitchenette, laundry, bedroom, bathroom, and covered patio. Lennar designed this unique option to be incorporated into the envelope of a "traditional" floor plan in a way that allows it to remain a separate space but also offers direct access from the main home while providing a private access from the exterior of the home. Overall, many different uses can be envisioned for the suite depending upon the family's needs.
"We are constantly keeping our finger on the pulse of new trends in homebuilding – and this Next Gen home is taking the company to the next level of innovation by providing homebuyers with even more choices and options than ever before," said Stewart Parker, Division President. "The great thing is that this private suite can be integrated into the main home's living space or kept as a private residence, it's your choice!"
The city of Frisco is a highly desirable city that has something to offer everyone. For those who enjoy the energy of an urban environment but still want the feeling of living in a small town this is the community for you. Climate, convenience, a "small town" character, and accessibility to downtown Dallas are only a few of the qualities that make Frisco such an attractive location.
Some of the luxury features of the homes in Crown Ridge are an upgraded GE Energy Star stainless steel appliance package with a gas stove, granite kitchen countertops, ceiling fans, upgraded oil rubbed bronze fixtures throughout, and a solid mahogany front door with ornamental glass.
The two new models will be ready for viewing by the beginning of April 2013. The McKinley II is a 1.5 story home with 3 bedrooms, 2.5 baths, a study and a game room offering a total of 2,590 square feet. There is also an optional 4th bed and full bath upstairs. The "Freedom" plan is a 2 story Next Gen home that has 4 bedrooms, 3.5 baths, a kitchen island with an eating bar, game room, and optional theatre room in the main wing for a total of 3,861 square feet. The private suite includes a bedroom, kitchenette, living area, laundry area (with optional washer and dryer), a bath, and a private covered patio.
Crown Ridge is part of the Prosper ISD which features highly recognized schools. The children that live in Crown Ridge can attend Judy Rucker Elementary, Lorene Rogers Middle School, Reynolds Middle School, and Prosper High School which are all rated as "recognized" by the Texas Education Agency (TEA). The community is located 1 mile south of Highway 380 and 3 miles north of Highway 121.
Great shopping and dining can be found at the Stonebriar Mall and Downtown Frisco are just a few of the things that make the city so special. With retail stores, restaurants, events, fountains, parks and gardens, the property draws millions annually from across the entire North Texas area. Forbes rated Frisco as No. 7 on America's 25 best places to move based on population growth, family incomes, size and ages of homes, school quality, and proximity of multinational companies. (http://www.forbes.com/2009/07/07/relocate-relocation-cities-lifestyle-real-estate-affordable-moving_slide_8.html)
The City of Frisco also built Frisco Square, a mixed-use development that has become the new downtown. Frisco Square has approximately 250 rental residential units, seven restaurants, and roughly 40,000 square feet of commercial office space. Two major developments within the project are the new City Hall and the Frisco Public Library that are both less than 5 miles from the community of Crown Ridge. Another huge addition is Jerry Jones's Gates of Prosper which boasts 800 acres of future master-planned mix use development at the corner of Hwy 380 and Preston Road in Prosper, Texas. According to D Magazine Jerry Jones was quoted "I have a reputation as a risk-taker, but I don't see this investment as a gamble. In fact, the growth is faster than I anticipated. I'm sold on the area." The Gates of Prosper, when completed, will be only 8 miles away from Lennar's Crown Ridge Community.
Frisco is also home to several sporting venues such as the Dallas Stars, FC Dallas, the Frisco Rough Riders, and the Texas Legends. All of which provide fun events for your friends and family to attend in Frisco!
With hundreds of Communities nationwide offering homes designed for first-time, move-up and luxury homebuyers, Lennar has grown to become one of the nation's leading and most respected homebuilders. The company has a longstanding history of building exceptional homes in only the most well planned and desirable locations throughout the country. Lennar proudly remains steadfast in their commitment toward quality, value and integrity.
For more information visit our Welcome Home Center at 9406 Robinwoods Drive, Frisco, TX 75035, contact our New Home Consultants at 469-268-3855 or visit our website at Lennar.com.