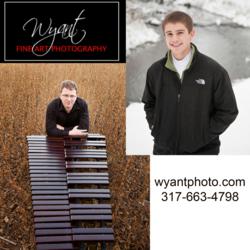 There are advantages to each season for high school senior photos. It is important to take in consideration how much time is available for that season.
Carmel, Indiana (PRWEB) April 30, 2013
As the class of 2014 quickly comes to the opportunity to claim the title of "Senior", there is also the realization that there are a lot of decisions ahead for the last year of high school.
One of those decisions is about high school senior pictures. High school senior pictures can be one of the most exciting things about the last year in high school. It's a fun way to be expressive and show who the senior really is in high school. Many people may not be sure when the best time is to get great senior pictures. Lois Wyant of Wyant Photography shares some secrets for the best seasons for senor photos.
Fortunately in the mid west each season has a different look. Each season brings its own beauty and unique background for senior pictures, but they all have their disadvantages as well.
Here are some tips about the seasons shared by Lois Wyant from Wyant photography.
Summer, especially June and July, is absolutely my favorite time for senior pictures. The flowers are in bloom, the grass is very green, the leaves are out, and the sun is more likely to shine more than in any other season. But caution once August hits, it becomes much hotter and the humidity really kicks in. The grass may start to look a little brown, the creeks dry up, and walking outside can be a dreaded activity.
Autumn can also be a beautiful season. Fall brings some of the best colors of the year for the leaves. Fall is also a very unpredictable time. Timing can be difficult to get the colors of the leaves, so we recommend shooting for the last week in September to about the second week in October. It is also a bit risky to expect a lot of color, because unfortunately, a beautiful Autumn season is not consistent every year. It is also not uncommon to have a bunch of color one day then a rain storm knocks down most of the colorful leaves. So, although Fall is very pretty, it is a difficult season to predict when the color will be the best.
If a senior loves snow or if is involved in a snow sport, snow photos can be a lot of fun. At Wyant we create a call list during the winter to be able to call those interested in snow when the opportunity arrives, since snow is unpredictable. As soon as there is enough snow to cover the ground, we contact those on the list to see if they can work in their schedule to meet while the snow is pretty, which may be only two to three days.
Spring can also be a beautiful time, but spring may not be beautiful until the last week of April or the first week in May. It is also very difficult to work around the excessive amount of rain Indiana receives during the Spring months, so you must be flexible if Spring pictures are what the desire.
Another important decision to make is the location. At Wyant Photography we have a 10-acre portrait park with many beautiful features including a creek, hillside, an antique barn, thousands of flowers and gorgeous plants, and many other fun items that will make senior portraits unique and creative. We also offer unique locations like Indianapolis Canal, White River Gardens, Carmel City Center, or even Indiana Dunes for a great beach look, the ideas are unlimited. For more tips and information on senior pictures visit wyantphoto.com or call 317-663-4798. We wish you luck on your senior year.