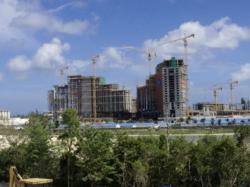 The Bahamas continues to attract the most American luxury travelers.
New York, New York (PRWEB) April 30, 2013
The Bahamas continues to attract the most American luxury travelers, according to a new study released by Resonance Consultancy in collaboration with The Luxury Institute. The report also shows that the island destination more affluent Americans want to visit than any other is the Turks & Caicos.
The Resonance Report on Affluent Travel and Leisure surveyed more than 1,200 affluent U.S. households with incomes of $150k+ to understand their plans for travel, recreation and the purchase of vacation homes in the next 12-24 months.
To download a complete copy of the Resonance Report 2013 please visit resonancereport.com.
"The Bahamas has always been associated with luxury travel, and the country resisted catering to the lower end of the market after the downturn in 2008. Many other Caribbean destinations went the other way," says Chris Fair, president of Resonance Consultancy.
The Bahamas welcomed approximately 5.8 million visitors in 2012, a 6% increase over 2011 arrivals. With a new airport and construction of the $2.6 billion Baha Mar resort in Nassau well under way, the Bahamian government is expecting to attract an additional 500,000 visitors a year after the resort opens in December 2014.
Regional competition is a constant in and around the Caribbean, and today, more than a quarter of American luxury travelers surveyed cited the Turks & Caicos Islands (TCI) as the island destination they would most like to visit.
Tourism to Turks & Caicos has grown by double digits in recent years, rising to more than a million visitors in 2012. Over the past five years, the TCI tourism industry has put exceptional effort into raising service standards, and numerous luxury resorts have sought to outdo one another with extravagant amenities, stunning views and personalized service.
According to the survey, the Top 10 most visited island destinations for U.S. luxury travelers are:
1. Bahamas
2. Puerto Rico
3. Jamaica
4. Virgin Islands
5. St. Maarten
6. Cayman Islands
7. Bermuda
8. Aruba
9. Barbados
10. Dominican Republic
According to the survey, the Top 10 island destination U.S. luxury travelers would most like to visit are:
1. Turks & Caicos
2. Aruba
3. Virgin Islands
4. Cayman Islands
5. Bermuda
6. St. Lucia
7. St. Barts
8. St. Kitts & Nevis
9. Barbados
10. St. Maarten
10. The Bahamas
About Resonance Consultancy (http://www.resonanceco.com)
Resonance Consultancy provides brand development, strategic marketing and planning services to leading travel & tourism companies and organizations around the world. The principals of Resonance have completed more than 100 travel & tourism studies, reports and plans in 65 different countries.
About Luxury Institute (http://www.LuxuryInstitute.com)
The Luxury Institute is the objective and independent global voice of the high net worth consumer. The Institute conducts extensive and actionable research with wealthy consumers about their behaviors and attitudes on customer experience best practices. In addition, we work closely with top-tier luxury brands to successfully transform their organizational cultures into more profitable customer-centric enterprises.