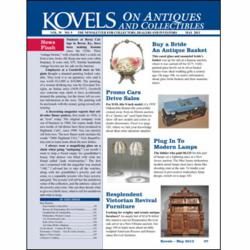 (PRWEB) April 30, 2013
The May 2013 "Kovels on Antiques and Collectibles" newsletter is now available in print and online.
Midcentury modern lamps are featured in a sale report in the just-published May 2013 issue of "Kovels on Antiques and Collectibles." The lamps, all by known designers and manufacturers working from the 1950s through the 1980s, attracted a lot of attention at a New Jersey auction, where prices ranged from $1,250 to over $8,000. Several big pieces of American Rococo and Renaissance Revival furniture sold at a New Orleans auction for big prices. Kovels' latest issue has pictures and prices of some of the heavy and lavishly sculpted pieces. Fancy art glass bowls set in silver basket frames were popular wedding gifts a century ago and more than 20 of these "bride's baskets" sold at a Kansas auction. Descriptions and selling prices can be found in Kovels' May newsletter.
Read about "promo cars" made from the 1950s into the '70s as salesman samples for auto dealers. They rarely show up at auction, but a few sold at a winter auction in Illinois. Kovels' newsletter also reports on sterling silver Arts & Crafts pins, bracelets and necklaces made by silversmiths at Chicago's famous Kalo Shop as well as 19th- and early 20th-century candlesticks and candelabra made of metals, wood, marble and glass that sold in Detroit. And hundreds of Beatrix Potter collectibles—books, figurines, puzzles, games and china dishes—sold at a London auction. Pictures and prices of some examples that relate to her most famous character, Peter Rabbit, are also featured.
Kim Kovel went "on the road" to London and Paris. Regular monthly features are here, too. The popular illustrated Collector's Gallery has answers to readers' questions about a Cecil Aldin print, Victorian "collar box," Hunzinger folding chair and Little Red Riding Hood cookie jar. May's Dictionary of Marks lists marks used by American Arts and Crafts silversmiths and the Buyer's Price Guide lists current prices of dozens of antiques and collectibles.
With its mixture of expert advice and reports on what's hot in the market, Kovels' newsletter has something to offer for both beginning and experienced collectors. "Kovels on Antiques and Collectibles" is available as a print subscription or as a digital downloadable version that is part of the Kovels.com Premium subscription.
Terry Kovel, well-known columnist and author, gives information and advice on collecting. She will discuss antiques and collectibles topics with accredited media. Photographs are available. Contact pr(at)kovels.com.
About Kovels.com
The online website, Kovels.com, created by Terry Kovel and Kim Kovel, provides collectors and researchers with up-to-date and accurate information on antiques and collectibles. Kovels' Antiques was founded in 1953 by Terry Kovel and her late husband, Ralph. Since then, Kovels' Antiques has continually published some of America's most popular books and articles about antiques, including the best-selling "Kovels' Antiques and Collectibles Price Guide," now in its 45th edition. The Kovels' website, online since 1998, and free weekly email, "Kovels Komments," give readers a bird's-eye view of the market through up-to-date news, auction reports, an online Price Guide, a Marks Dictionary, readers' questions with Kovels' answers and much more.
Contact Information:
Liz Lillis
216.752.2252
Pr(at)kovels(dot)com