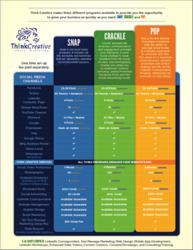 It's easy to make mistakes that cost a company in lost revenue and reputation. However, there is also a lot to gain when it is done right.
Minneapolis, MN (PRWEB) April 29, 2013
Social media usage continues to become more habitual with over 22% of Americans visiting social media websites a few times a day (Social Media Today).
The challenge for most companies, however, is finding the time to actively engage their audience on a daily or weekly basis, and making sure they aren't wasting their time and money by doing it incorrectly. Now, a new service by Think Creative Digital Marketing (Minneapolis, MN) manages all social marketing for clients – blogging, tweeting and posting on their behalf 10-15 times/week or more.
According to the 2013 U.S. Digital Marketing Spending Survey, corporate marketers outsource up to 50% of digital marketing activities including 34% or more of content creation and marketing on social networks.
"By outsourcing their marketing to online experts, companies are assured of getting maximum return on their investment through larger fan bases and more leads," states Think Creative CEO, Kevin Ehlinger. "We help companies avoid making mistakes that cost them in both lost revenue and online reputation. By actively engaging in social media on behalf of our clients we are able to create a compelling following that can generate significant results."
An example of those results is when, in January 2013, Think Creative's social management team helped a hospitality client in Minnesota grow from 100 to over 28,000 fans in just two weeks. "That result, and the added revenue the exposure generated for them, has had a tremendous impact to their bottom line," Kevin added.
While those results were exceptional, the survey confirmed that marketing on social networks is one of the biggest contributors to marketing success, second only to corporate websites (2013 U.S. Digital Marketing Spending Survey).
Think Creative's Social Media Management Program services include:

Set up all social media accounts (Facebook, Twitter, LinkedIn, YouTube, Pinterest, Google+, Foursquare, Yelp, and search engine locators)
20-28 Facebook posts per month
40 Tweets and Retweets per month
Writing and posting to blogs, Google+ and LinkedIn
10 Pins and Repins on Pinterest
Social video production and photography
Launching contests and giveaways
To learn more about the program and get pricing details, contact Think Creative by calling 952-943-3971 or visit their website at http://www.thinkcreativedigital.com/we-do-social.
Think Creative Digital Marketing is a forward-thinking lead generation marketing agency specializing in effective brand messaging, social marketing, website development, video production, and content creation to attract audiences. Based in Minneapolis, Minnesota, Think Creative serves clients across the United States.