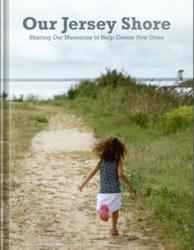 "Since the need in the wake of Hurricane Sandy is still so great, we wanted to make the book available to everyone through as many distribution channels as possible." Laura Vitez - Creative Director, D2 Creative
Somerset, NJ (PRWEB) April 30, 2013
To mark the six-month anniversary of Hurricane Sandy, New Jersey-based digital agency, D2 Creative, has made its free, interactive picture book, "Our Jersey Shore," available through Apple's iBookstore.
Produced with iBooks Author, Our Jersey Shore was created as part of a Hurricane Sandy relief initiative as a fun way to remind people that the Jersey Shore still needs their help. In the book, the agency's staff shares their memories, photos, videos and old home movies, with the goal of encouraging readers to help create new memories for future generations. To facilitate donations, the book includes links to both Robin Hood and the American Red Cross.
"Since the need in the wake of Hurricane Sandy is still so great, we wanted to make the book available to everyone through as many distribution channels as possible," said Laura Vitez, D2 Creative's Creative Director.
The interactive iBook can also by downloaded from D2 Creative's Our Jersey Shore site.
D2 Creative
D2 Creative (http://www.d2creative.com) is an independent digital agency that helps organizations increase reach, influence, and effectiveness through creative digital solutions. The agency offers interactive digital publishing solutions, including multi-touch books, brochures, and manuals created with both Apple and Adobe publishing platforms. Consulting is also provided to help clients navigate the confusion surrounding various target devices, publishing routes, and distribution hurdles.
Robin Hood
Robin Hood is providing meaningful assistance to organizations that are serving the areas hardest hit by the storm and has already disbursed millions to organizations on the front lines. Groups who have received funding thus far include members of Robin Hood's existing network, as well as other organizations who have rallied to aid victims of the storm.
American Red Cross
The American Red Cross shelters, feeds and provides emotional support to victims of disasters. The Red Cross is a not-for-profit organization that depends on volunteers and the generosity of the American public to perform its mission.
###
If you would like more information about this topic or D2 Creative in general, please contact Carrie Plantamura at 732.507.7441 or email info(at)d2creative(dot)com.