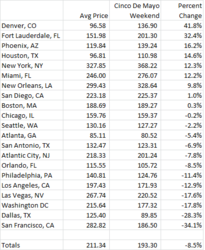 Jericho, New York (PRWEB) April 30, 2013
HotelsCheap.org, a leading discount hotel provider, recently conducted a study to evaluate hotel prices over Cinco De Mayo weekend. The Hotelscheap.org study evaluated the top 20 most popular US travel destinations, comparing the city's average room price to the room price charged over Cinco De Mayo weekend May 3 – May 5.
Cinco De Mayo is the Mexican independence day, and is widely celebrated in the Mexican Hispanic community each year. Typically families get together to celebrate, much like American families do on the 4th of July.
HotelsCheap.org concluded that hotel prices on the whole are cheaper on Cinco De Mayo weekend than on average. The study found that hotel prices actually decreased on the whole by 8.5%, however southern cities located closer to Mexico saw a price increase. Southern cities including San Diego, Phoenix, Houston, Miami, New Orleans, and Denver all have price increases on May 5th weekend. These cities have a higher Mexican population than other North American cities on average.
Denver Colorado has the highest hotel price increase for May 5th weekend, with an average hotel price increase of 42%. Denver has 31.7% Hispanic population. San Francisco has the best hotel deals for Cinco De Mayo weekend. Rooms are available at a discount price, if one is willing to travel to San Francisco for a hotel deal. For a list of the top 20 travel destinations, and their average hotel rates read the http://www.hotelscheap.org study here.
The Methodology:
Hotels with a star rating between 2 and 5 were included in the study. The average price is a weighted average for each city, calculated from 12 months of historical price data. The weighted average was calculated by the number of rooms available for each star rating, calculating the average price for all hotel rooms for each individual hotel. Then, all hotel rooms for a city were combined to create the average price for each city. Hotel room prices for May 3 - May 5 were gathered from the Expedia API, which represents the largest hotel inventory in the world with over 100,000 active hotels.