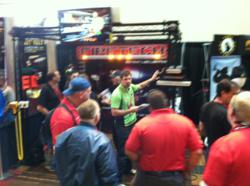 "SuperCharged" means we take industry standard platforms and add the FireTech family of lighting solutions to project the most light on the scene. We then offer an unprecedented Life Time Warranty and a competitive price -- Sam Massa, Founder, HiViz LEDs
Lillington, NC (PRWEB) April 30, 2013
"We were nearly overrun with customers, distributors, and OEMs interested in our brow lights, scene lights, and SuperCharged light towers at the show," exclaims Sam Massa, Founder of HiViz LED Lighting, in regards to number of people who stopped by to see the family of FireTech Lighting Solutions on display from HiViz LEDs at the FDIC show in Indianapolis. Massa continues, "One of the highlights for me was to have Kent Tyler, CEO of E-One, recognize me by name when I went to introduce him to a core technology partner's CEO. We have enjoyed and look forward to expanding a very good relationship with E-One."
"I am not complaining, but it was almost embarrassing having to continually ask the WilBurt lead product executives who were in discussion with our founder to step to the left or move to the right as customers streamed into our booth pointing at the Wilburt Night Scan light tower that we had 'SuperCharged' with our Lifetime Warranty, high output LED technology and saying 'I want those on my tower'," says James Christopher, head of Dealer Development and Distribution for HiViz LED Lighting. "Then when Wilburt had left, we did the same dance with the Rosenbauer key engineering and product development executives who were looking at the 72" brow light with embedded marker lights, split circuitry, and 4 times the effective lumens of some of our competitors. A crowded booth is a good problem to have."
HiViz LED Lighting unveiled their SuperCharged version of the WilBurt Night Scan light tower at FDIC which had 4 Lifetime Warranty FireTech lights that emit nearly 60,000 effective lumens reaching the emergency scene. HiViz also unveiled their full family of low profile brow lights with such features as embedded marker lights and split circuitry which allows for the brow light to become a 3-in-1 lighting solution. Also featured were the FireTech replacement scene lights for 500 watt, 1,000 watt, and 20,000 lumens. All scene lights are offered as replacement light heads to fit on any industry standard pole or as complete packages with Tele-Lite poles or tri-pods. Finally, an upgrade to the StreamLight flashlight was unveiled which transforms the flashlight in to a handheld scene light that is 35 times brighter, has a longer batter life, and carries the same Lifetime Warranty as the apparatus based lights.
"I never imagined that HiViz LED Lighting had so quickly achieved this depth of penetration into the emergency, fire, and rescue market," says Tony Georgitsis, CEO of VisionX Global Lighting. "It's is a pleasure to provide core technologies to HiViz LEDs. They are our partner and reach to the emergency, fire, and rescue market." Georgitis continued, "HiViz LEDs completely understands the application of lighting to this market, they provide unique innovations we just don't have, and they understand the business model of how solutions are provided to customers through the OEMs and their Distributors. I was blown away."
"It has been several years of investment into understanding what is needed on the fire ground and emergency scene in order to develop the right technical solutions.", says Sam Massa, founder of HiViz LED Lighting. "We have also been listening to the customers and realize we have to work within their way of doing business and technology procurement. We are committed to work through the customers' trusted partners and apparatus providers."
All HiViz LED Lighting FireTech lighting solutions come with the emergency/fire/rescue industry's only Lifetime Warranty for lighting solutions. This is a straightforward replacement warranty for the light head for the life that the customer owns the light. If the light head stops working virtually for any reason other than crushing it, HiViz LEDs will replace it. Battery and other components carry a one-year warranty.
The brand name "FireTech," HiViz LED Lighting means that its offerings are proven on the fire ground and used by experienced firefighters to ensure the function and safety meets first responder's needs and exceeds that of the FireTech competition.
The brightness of the HiViz LED Lighting FireTech offerings is only exceeded by its breadth of lighting solutions. It begins with the industry's brightest brow light in a sleek, low profile design that looks like it was made to fit on the front of a fire engine rather than an afterthought bolted on. The ultra-bright brow light comes in widths of 46", 65", and 72" and now offers unique features of "split optics" and embedded marker lights.
FireTech brow lights are made with corrosion-resistant extruded aluminum that are 2 to 4 times brighter than a single FRC Spectra or Whelen Pioneer LED light. An informative demonstration of the split optics can be seen by clicking here.
The FireTech product family also includes ultra-bright scene lights that can be ordered alone or as a standard package with a Tele-Lite™ tri-pod, push-up or pull-up pole. The FireTech Scene Light can also be fitted to any industry standard tri-pod or industry standard push up pole provider. "All of the scene lights include the optional FlexPower™ feature, allowing them to operate on both A/C and D/C current, so as to have the ultimate in power source flexibility," says Sam Massa, founder of HiViz LEDs.
If a fire department requires extensive scene lighting, then HiViz LED Lighting can provide a WilBurt Light Tower outfitted with the FireTech ultra-bright scene lights instead of standard offerings. The patented pulse width modulation technologies of the LED light driver make for a cooler operation of the light to be typically under 80 degrees Fahrenheit. This, along with the solid state aspect of LED lighting, means that the FireTech light tower does not have light instrument failures due to having to lower and transport the lights while still hot which makes them vulnerable to failure due to vibration. The FireTech light tower is vibration isolated and impervious to such heat related and vibration related failures.
The FireTech product family continues with a 3,500 lumen Work Light which offers the best cost per lumen in the industry. The optic pattern is configured to act as a spot light and a flood light at the same time, thus eliminating the need to adjust the angle of the light or choose between spot or flood. "The multi-joint lights that are common on fire apparatus also are also highly prone to failure." Says Sam Massa, founder of HiViz LED Lighting. "The constant adjusting of the lights and the vibration of riding on the truck simply wears out the joints. We use collimater lighting technology to project the light both close to the apparatus and farther onto the work scene simultaneously and eliminate the need for such points of failure"
A little appreciated, yet critical, area for illumination is the compartment light. HiViz LED Lighting has a unique FireTech LED lighting solution to offer for Compartment Lighting well with its flexible strip light offering. These 3 foot strips of light can provide up to 500 lumens in hard to illuminate tool trays. In addition HiViz LED Lighting offers a flat mount 2x4 inch panel LED compartment light which works well for illuminating deep and wide compartments.
Rounding out the family of apparatus based lighting solutions, HiViz LED Lighting offers the FireTech SuperCharged Rebuild Program™ . With the FireTech SuperCharged™ LiteBox® being the first of a family of handheld scene light upgrade offerings, HiViz LED Lighting allows a fire department to recycle its existing Streamlight LiteBox® units and transform these flashlights into handheld scene lights that are 35 times brighter than what is currently on the fire truck, ambulance, or command vehicle. To see a demonstration of the extreme enhancement in visibility provided by the FireTech SuperCharged™ LiteBox®, click here.
"HiViz LED's FireTech SuperCharged™ LiteBox® changes the standard in handheld lighting," says HiViz LED's FireTech SuperCharge Program Manager, Mark Miller. "It simply delivers a massive amount of light on the scene at the lowest cost per lumen in the market."
HiViz LED Lighting is located in Lillington, NC and is owned and operated by firefighter and EMT, Sam Massa and his team of lighting professionals. For more information about how the FireTech Brow Light, Scene Lights, Work Lights, Compartment Lights or the FireTech SuperCharged Rebuild Program™ for handheld scene lights please contact HiViz LED Lighting by emailing sales(at)hivizleds(dot)com or calling the office at 703-662-3458.
FireTech is a product brand and SuperCharge Rebuild Program™ is a marketing program of HiViz LED Lighting. LiteBox ® and the LiteBox Series® is a product of LiteStream, Inc. Tele-Lite™ is the trademark of Tele-Lite, Inc. Night Scan® is a registered trademark of WilBurt, Inc.