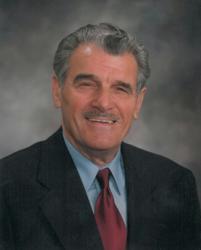 "Customers should always be a driving force."
Navarre, OH (PRWEB) April 30, 2013
A man who changed the world of industrial fabric welding with his vision and knowledge - Al Miller, Founder of Miller Weldmaster, passed away Friday at his residence surrounded by family. Miller leaves behind the powerful legacy of having built Miller Weldmaster into a global presence in over 100 countries since he founded it in 1972.
Miller built the first welding machine in his garage. He worked hand-in-hand with customers developing and testing welding machines until they met the customer's needs. Al Miller once said, "Customers should always be a driving force." Today, this is the vision that Miller Weldmaster is committed to. Al's passion, creativeness and knowledge of the different industries formed Miller Weldmaster into The First Choice Globally of all industrial fabric welding solutions. Al proudly retired in 2000.
He was born in 1928 in Massillon, Ohio. Served in both the U.S. Navy and U.S. Army where he served his country and was honorably discharged. He was a licensed fixed wing aircraft pilot, honored as a Distinguished Citizen in 1998 and Lifetime Member of the Industrial Fabrics Association International.
Personal friends, colleagues and customers of Miller Weldmaster – have all been touched by his drive, commitment, creativeness and his vision. Al Miller will be greatly missed by many.
Tribute to Al Miller can be viewed here Celebrate the life of Al Miller
About Miller Weldmaster
Miller Weldmaster, the first choice globally of all industrial fabric welding solutions, has offered rotary hot air, hot wedge and impulse welding equipment to the industrial fabric and thermoplastics industries for forty years. For the fabrication and automation of various products from awnings to truck tarpaulins, to flexible air ducting, Miller Weldmaster has developed many of the first advancements in heat sealing technology. The company's historical record of industrial "firsts" demonstrates its ability to research, design and build solutions using the most current and innovative features of the industry. Having sold machines in over 100 nations around the world, and with distributors in 20 countries, Miller Weldmaster Corporation is a leading international manufacturer and provider of solutions for plastic welding machines with a commitment to customer satisfaction. The company is headquartered in Navarre, Ohio, USA.