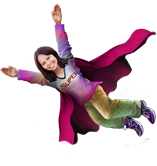 "There is nothing better than making someone you love know how 'super they are to you!' - Margo Redfern, CEO
Truckee, CA (PRWEB) April 29, 2013
Mom's perfect Mother's Day could start with the standard breakfast in bed or flowers in a vase routine, but what will really make her smile is a personalized My SuperSomeone book from flattenme.com. Highlighted as the superhero in My SuperMom, moms everywhere can answer to the name they deserve - hero.
This spectacular personalized gift is a tribute any Mom will love to receive. With her face and name magically incorporated throughout her very own custom book, this beautifully illustrated personalized book will become a treasured keepsake of the day celebrated in Mom's honor. Mom will delight in each page as she sees 'herself' performing heroic feats.
The website at flattenme.com, brainchild of entrepreneur and CEO Margo Redfern, is the best place to shop for unique personalized gifts. Says Redfern, "There is nothing better than making someone you love know how 'super' they are to you with something truly special."
Flattenme.com is quite possibly the most magical personalized books and gifts company on the planet. Flattenme has been highlighted on Today Show, Good Morning America, The View as the 'hot gift to give'.