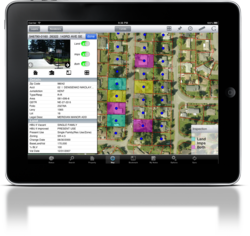 Keep employees smartly and securely connected with Mobise Platform.
Redmond, WA (PRWEB) April 30, 2013
Mobise, developer of leading-edge mobile solutions for business and government, announces the Mobise Platform enabling iPad applications to be built quickly, easily and securely, blending data and GIS maps.
Mobile applications allow professionals to access data anywhere, anytime. How do companies build robust iPad applications that allow real work to be the done on the go? IT departments are swamped with constant demands, fighting fires, and a mobile application for employees is on the "to do" list with no end date in sight!
iPads and iPhones dominate the market in terms of popularity; however, many IT departments lack the skills and resources to build enterprise-grade mobile applications on the iPad or iPhone.
Even if companies can build mobile applications, they need to address a major issue that plagues all smartphone and tablet users – lack of consistent 3G/4G coverage across North America. How can employees remain productive when they lose coverage?
The Mobise Platform keeps employees on the go productive with and without wireless connection.
Mobise created its platform while developing a groundbreaking iPad application for field appraisers, many of whom were doing their work with paper and pen. The application allows field appraisers to:

access the office databases to receive and send updates securely.
continue their work when a 3G or Wi-Fi connection is lost, and sync smartly.
capture photos and integrate them immediately to the appropriate record.
take notes and integrate them immediately to the correct file.
know their exact location with integrated GPS.
view aerial and/or Google maps.
sketch floor plans and additions.
make decisions or track work with integrated intelligent maps with layers and renderers.
The Mobise Platform contains services and Microsoft Windows-based tools upon which companies can build their own custom applications for their employees or clients. It can be deployed locally or as a Cloud service. It gives users the ability to design custom forms for the screens as well as the back-end integration to the office.
At a glance, the Mobise Platform:
Allows quick creation of business applications on an iPad/iPhone using preconfigured tools, saving time coding and testing.
Works seamlessly with and without connectivity. It synchronizes intelligently with the back-end systems at the office, allowing for continued productivity on the go.
Manages the deployment, updates and security of the applications on the mobile devices, relieving the burden of managing multiple devices.
The Platform includes the following elements:
Mobise iPad Client Modules: Allows companies to easily create customizable client modules with options like search, form capture, form edits, drop down menus, filtering of results, GIS or map visualizations of data, sketch, etc.
Mobise Synchronization Services: Designed to handle the reconciliation of information changes for the devices that might have occurred in disconnected mode. This keeps everyone on the road and back at the office operating on the same page, with pre-built rules for handling rare data collisions. Employees are free to focus on their field work without having to worry about data changes back at the office.
Mobise Device Management: Manages the mobile devices on the network, which saves time and complexity for IT staff and keeps data secure. Managed devices can be remotely wiped of data and passwords can be enforced. It is designed to easily push new application updates to the iPads, keeping things simple for employees.
Database Connector: Provides the necessary interfaces to connect between a database and the Synchronization Services, giving employees seamless access to data whether on the road or at the office.
Files Connector: Allows employees to retrieve images and other data from/to each mobile device, modify them or add new images and data, allowing professionals to remain productive on the go.
Mobise Studio: Allows non-developers to quickly customize the screens for the mobile application, via drag and drop options created on a PC application, saving developers time.
The Mobise Platform is an enterprise grade mobile development solution that is simple, flexible and powerful for business and government. It allows IT departments to bring mobile solutions to employees quickly, efficiently and securely. To learn more, please email info(at)mobise(dot)com.