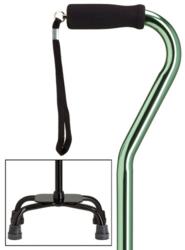 Lady Lake, Florida (PRWEB) April 30, 2013
Walking-Canes.Net has just received a new line of Quad Canes. These canes represent the latest in fashion and function.
Quad canes are canes with a straight shaft, contoured handles and four points that come in contact with the ground. They are available with either wide or small bases and are more stable than single-point canes. People with significant muscle weakness in both the arm and leg on one side of the body, which often happens following a stroke or brain injury, may benefit from the use of a quad cane
Quad Walking Canes are a wonderful option for those that need a little extra support. The Quad Cane will help provide the reliability needed to prevent falls and fractures. The wide base of this type of cane can provide extra balance to the cane user and makes it easy to use and super comfortable too.
The handles of these sturdy quad canes are made for comfort. The Handles are contoured to provide a comfortable grip. Many manufactures provide foam hand grips to make these canes even more comfortable. Most quad canes are adjustable walking canes as well. The cane can adjust upward to make it taller or shorter so that it will fit perfectly. For extra security it will come with locking knobs to keep the adjustments in place.
These sturdy canes are made of aluminum alloy for a strong but lightweight support aid. One does not have to sacrifice style to use them. The quads are available in various patterns and designs. One can find solid colored colors or metallic colors in any shade that pleases you. With an endless amount of patterns available, there is sure to be something to appeal to everyone.
Customer Service is available at 1-888-928-1774 for answering any questions on the very popular quad walking cane.