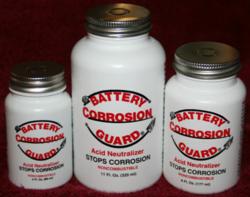 It all but eliminates those "no start" situations caused by connection continuity problems.

Gil Justiss
Fleet Maintenance Manager
Ag Enterprise Supply, Inc.
Spokane WA (PRWEB) April 30, 2013
There are a lot of products in the world that claim to do a variety of things. Some of them work well, but often don't work as well as they are expected to. That is certainly true of products that claim to prevent corrosion on batteries for cars, boats, airplanes, trucks, heavy equipment, and everything in between. There is one product in that category, however, that does work just as it claims. That product is Battery Corrosion Guard. Battery Corrosion Guard is a liquid compound that prevents all types of corrosion, especially battery terminal corrosion or on any unsealed electrical connection, such as headlight and taillight connections. Once the post is cleaned with some baking soda and a brush, Battery Corrosion Guard can be applied. Soon it will dry to a rubber-like consistency forming a coating and sealing whatever it is applied to. The coating contains its own acid neutralizer that works so well you likely will never have to clean that battery or connection again. It works equally well on bolts and nuts. Applying some to the threads of an electrical connection during assembly will assure that you will be able to easily undo the assembly and keep it corrosion free. Bolts and fasteners on large trucks - exposed to the weather - that have to be removed frequently for servicing are another example. There are other uses for BCG such as the metal parts on battery attachments and many more.
Here are a couple of the many testimonials of satisfied customers:
Jerry J. Kiefel
System TWT
Spokane, Washington

With a fleet of 1,000 semi-trucks, System TWT has effectively used this product for over 20 years.
In the face of ever-growing demands on charging/cranking components, we employ a long-proven ally - Battery Corrosion Guard!
Easy to use, easy to store, and eco-friendly, Battery Corrosion Guard is a simple proven solution to a complex and costly challenge.
Otis Bryant, Lead Mechanic Retired
Yosemite Community College District
Modesto, California
In my 43 years of working as an automotive and equipment mechanic, I have seen very few new products come along that I found to be "extraordinary". Battery Corrosion Guard is one of these "extraordinary" products!
I have found in our fleet of hundreds of vehicles, when Battery Corrosion Guard is applied to new, clean battery terminals, we have absolutely no corrosion problems ever!
Battery Corrosion Guard is the best product I have ever seen for slowing and controlling existing corrosion.
I highly recommend Battery Corrosion Guard!
There are many more for which space doesn't allow.
Battery Corrosion Guard is a product that will give your customers a reason to come back again and again. Being a dealer of this product means satisfied customers and generous margins for you. For more information go to the website batterycorrosionguard.com or use the contact information below.
For distributer/ dealer inquiries please call 509-496-2306 or email batterycorrosionguard(at)gmail(dot)com