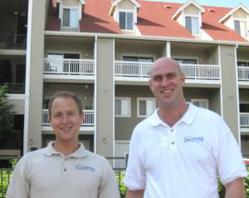 We've always thought it was better to give than receive, and that's why we hold these contests. People are so excited to win the prize which will beautify and add value as well as improve the efficiency and comfort of their home
Denver, CO (PRWEB) April 30, 2013
Lifetime Windows and Siding is proud to announce the winner of its drawing for energy-efficient triple-pane windows for an entire house. Elizabeth C. of Centennial, Colorado will be receiving her new windows this summer.
So many times a contest ends up being a gimmick with no real prize awarded. That's not the case with Lifetime Windows and Siding. We stand behind what we say, and Elizabeth responded with, "I'm so happy that I won!".
The drawing required only that participants fill out a simple form—no purchase necessary—and then a winner is selected at random from the entrants. The prize is an entire house of energy-efficient windows (up to a maximum of 10 windows and a patio door with a value of 10k).
Co-owners of Lifetime Windows and Siding Peter Svedin and Jason Lewis explain the rationale behind the contest, "We've always thought it was better to give than receive, and that's why we hold these contests. People are so excited to win the prize which will beautify and add value as well as improve the efficiency and comfort of their home.
"But," they added, "we're even more proud of the 3 complete windows we donated to Homes for Our Troops. We are always happy to give back to those who have served to protect our freedom, and we look forward to another opportunity to help."
Lifetime Windows and Siding donated the windows for a new house built by Homes for Our Troops for a wounded veteran in Elizabeth, Colorado last year.
About Lifetime Windows and Siding
Lifetime Windows and Siding offers energy efficient, low maintenance, and quality home improvement products to homeowners across the Front Range, including windows, glass doors, and steel and vinyl siding. Backed by lifetime warranties with complete satisfaction guarantees, Lifetime Windows and Siding's products are all made in the USA. They are the Denver windows experts!