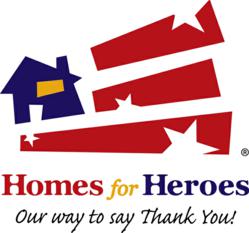 We couldn't wait to get on board! It's our team's way of 'giving back' to those who have so generously given of themselves, their lives and to their communities to help make the world a better place.
Indianapolis, IN (PRWEB) April 30, 2013
The Shanley Team at Inlanta Mortgage, a privately held mortgage banker, is pleased to announce their partnership with Homes for Heroes and to welcome the public to a Homes for Heroes launch party on May 8. The launch party will be held at Drake's Keystone, 3740 E 82nd St., Indianapolis at 5:30 p.m.
Homes for Heroes is a national network of the top mortgage lenders and real estate professionals who are prepared to give real savings to their community's heroes when they buy or sell a home. Homes for Heroes' mission is to provide extraordinary savings to heroes who provide extraordinary services to our nation and communities every day. As an approved lending affiliate with Homes for Heroes, the Shanley Team will be providing discounted lending services to heroes in the Central Indiana area.
The Shanley Team is also pleased to announce their partnership with more than 20 local Homes for Heroes Realtors. Homes for Heroes Realtor partners will credit back 25 percent of their commissions to the Heroes whether they are buying or selling a home. The program is close to Branch Manager Don Shanley's heart, as his father served in the sheriff department and one of his father's close friends, Master Trooper Michael Greene of the Indiana State Police, was killed in the line of duty. It's important to Shanley and his team to offer this great program to local heroes.
"When I was trying to create a program to give back I was approached and awed with the National Homes for Heroes Program," Shanley said. "It covered the hero categories of military, law enforcement, and fire that were on my list, but it added well deserving categories such as education, first responders, and medical personnel. Most of these are categories that are as well the true heroes of our communities and deserve these benefits!"
Derek & Stephanie Evelo of the Evelo Team at Keller Williams are very excited to be a part of this program and feel the program's values mirror their own team's values of making a difference and giving back to the community.
"As soon as we heard about how the program will benefit our current/retired vets and local heroes like firefighters, police and medical professionals, we couldn't wait to get on board! It's our team's way of 'giving back' to those who have so generously given of themselves, their lives and to their communities to help make the world a better place."
Warren Griffin of Re/Max Ability Plus is also partnering with the program and he feels it's the least he can do to help local heroes, considering his family also has ties to the military.
"My dad was a World War II Veteran. I also have a daughter, two granddaughters and a son-in-law living at Pearl Harbor while serving with the Air Force at Hickam Air Force Base," Griffin said. "I want to give back to all the people that help us every day of our life."
Homes for Heroes seeks only the top Realtors® and Lenders who have proven track records and who want to give back to their communities by giving rebates and discounts to Heroes like you throughout the entire real estate transaction. Homes for Heroes savings will vary per hero. The total amount Heroes save will depend on the final selling or buying price of their home. Homes for Heroes Affiliates have agreed to the following rebates and discounts: discounted lender fees and a 25% credit on the gross brokerage commission.
For more information visit http://www.homesforheroes.com or http://www.shanleyteam.com.
About Inlanta Mortgage
Headquartered in Brookfield, Wis., Inlanta Mortgage was established in 1993. The company has grown to 33 branches in 15 states and over 220 employees. Inlanta Mortgage provides its partner branches with Fannie Mae/Freddie Mac agency products, as well as a full suite of jumbo and portfolio programs. The company is delegated FHA/VA, FHA 203K and USDA approved.