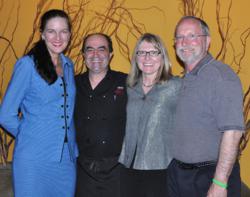 Dallas, Texas (PRWEB) April 30, 2013
On April 25 2013, Top Dallas breast surgeon Dr. Alison Laidley of Texas Breast Specialists and Dallas Chef Mansour Gorji celebrated their third year of collaboration in a creative culinary fundraising effort dubbed "Eat Drink and Beat Cancer" at a Texas-themed wine dinner at Canary By Gorji restaurant in North Dallas.
The $125 "Kick Butt and Fight Breast Cancer" dinner benefited the Laidley's Ladies Foundation and featured several award-winning selections from Kathy and Gary Gilstrap's Texas Hills Vineyard, including their signature "Kick Butt" cabernet sauvignon. The wines were paired with an all Texan menu, including Wild boar and a Texas Rio Star Grapefruit Salad that will be prepared on TV May 6 by Chef Gorji in a segment on Dallas' Fox 4 Good Day morning show.
     
The April event was just one of the signature events in a long list of food-related fundraising efforts that the two have collaborated on over the last three years.
Past culinary themed events have included cooking classes, monthly prix fixe menus and gourmet gift baskets. What the unlikely duo has found is that small intimate food events have big appeal. 
"The response by the public has been overwhelming" says Gorji who helms the kitchen for each sold-out event. "Because dining events are small and intimate, Dr. Laidley can greet and talk with every diner. I think that makes a difference. There is a great sense of community and camaraderie."
     
These intimate edible events have allowed Gorji as a small business owner to be charitable on a much larger scale than he had been able to do previously. "It was impossible for me to support a charity on this level before or have the feeling that I was making a difference."
    
"Breast cancer has touched my life so many times over the years. I have watched my family, friends and customers battling this devastating diagnosis. Working to fight breast cancer has a very personal meaning to me. When Dr. Laidley invited me to join her journey I realized that I could fight from my own battlefield--the kitchen.
           
The Laidley's Ladies Foundation mission is to help under-funded families receive excellent breast cancer care. In addition to dining and food events other fundraising efforts include a celebrity golf tournament in June and a casino night gala in October. For more information on Dr. Laidley and Laidley's Ladies Foundation go to http://www.laidleysladiesfoundation.org.
Canary By Gorji is located at 5100 Belt Line Road, Suite 402, Dallas, Texas 75254. Canary By Gorji offers a boutique wine selection and is open for dinner Tuesday–Thursday, 5-9:30 p.m. and Friday – Saturday, 5-10:30 p.m. Chef Gorji is a GO TEXAN member, a Texas Department of Agriculture program dedicated to promoting Texas foods, products and wines. For more information about the restaurant call 972-503-7080 or visit http://www.chefgorji.com.
Chef Gorji's own product line Gorji Gourmet Foods®, which includes Pomodoro and Puttanesca Pizza & Pasta Sauces, Dipping Oil & Marinade Primer and Pomegranate Vinaigrette are available for purchase at Canary by Gorji Mediterranean Steak & Seafood restaurant, DFW Whole Food Markets®, and the following gourmet stores in the Dallas area: Jimmy's Food Store, Bolsa Mercado and Celebration Market, The products are also available online at artizone.com and http://www.gorjigourmetfoods.com.