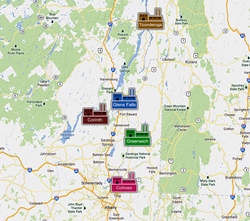 SCHENECTADY, New York (PRWEB) April 30, 2013
Levy Phillips & Konigsberg LLP ("LPK"), a nationally-acclaimed asbestos litigation law firm, whom U.S. News & World Report recently named 2013 Law Firm of the Year in Product Liability, recently filed a lawsuit* on behalf of Moriah Center, NY, resident, Norman Westover in the New York Supreme Court's 4th Judicial District in Schenectady to recover damages for Mr. Westover's lung cancer, which, according to the lawsuit, was allegedly caused by asbestos exposure.
According to the filed complaint, Mr. Westover was allegedly exposed to dangerous asbestos fibers on a daily basis during his twenty-plus-year career at the International Paper Mill located in Ticonderoga, NY. International Paper purchased the pulp mill, which had been operating on the western shores of Lake Champlain near the Vermont border since the late 19th century, in 1926. In the late 1960s, International Paper began decommissioning the original mill and, in 1971, opened a new mill at the location which is still operating today. The mill produces 850 tons of paper a day, employs approximately 600 workers and contracts with 650 loggers and truckers in New York and Vermont.
International Paper was formed in 1898 upon the merger of 18 paper mills in the northeast. The company was responsible for supplying 60% of the newsprint in the country. International Paper's Hudson River Mill, located in nearby Corinth, where the Sacandaga River joins the Hudson, was a major pioneer in the development of the modern paper industry in the late 19th century. In the early 20th century, the Hudson River Mill was one of International Paper's largest plants and served both as the company's principal office and a place where paper workers helped shape the direction of the industry's early labor movement.
As per the lawsuit papers, during his tenure at International Paper, Mr. Westover worked in both the original and new mill and he held a variety of positions that allegedly exposed him to asbestos fibers used in connection with mill machinery, including, but not limited to, cutters, dryers, rollers, boilers, pumps, and valves. Mr. Westover was also allegedly exposed to asbestos that was used in an abundance to insulate component parts of the original and new mill and the related piping and wiring.
Each year thousands of men and women are diagnosed with an asbestos-related disease such as mesothelioma**, lung cancer, or asbestosis as a result of their unnecessary exposure to asbestos and asbestos-containing products. These diseases may have been prevented if the companies profiting from the sale and/or use of asbestos products shared the knowledge they had concerning its dangers to its customers or end-users.
Workers who were exposed to asbestos at jobsites located throughout New York State can seek the expertise of the New York mesothelioma lawyers at LPK for possible legal representation. LPK's history of obtaining numerous landmark and record-setting verdicts and nationwide recognition makes it the first choice for many victims suffering from mesothelioma, lung cancer, and asbestosis who were exposed to asbestos in New York. LPK has offices located in Albany and Saratoga Springs, New York, to provide Upstate New York workers with access to the best legal representation for asbestos injuries.
If you or your family member has an asbestos-related disease, you should get in touch with an experienced asbestos attorney at LPK right away to determine if you have a case. For a free consultation, please call our local Upstate NY offices at (518) 871-1627 or our 24/7 toll-free national asbestos hotline at 1-800-MESO-LAW (1-800-637-6529) or submit an online inquiry at http://www.levylaw.com.

Norman L. Westover and Molly L. Westover vs. A.O. Smith Water Products, et. al., No. 2013-819 (N.Y. Sup. Ct., Schenectady County).