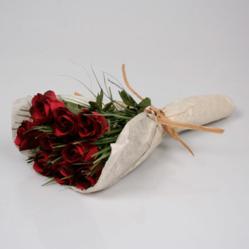 Jodhpuri's roses can be kept as still-beautiful keepsakes for years
Parsippany, New Jersey (PRWEB) April 30, 2013
Cheap, low-quality, brittle, tasteless, and tacky. These are the adjectives that many people think about when they imagine artificial roses. For centuries, real roses have been one of love's greatest symbols. Until recent years, giving your loved one an artificial rose might certainly have ended in disaster. However, a highly acclaimed home fragrance company has recently perfected the artificial rose, making it look, feel, and smell just like the real thing. What better way to show undying love than with a rose that will never die?
Today, people around the world are recognizing the beauty of Jodhpuri's artificial rose bouquets. Artificial roses have made a surprising entrance into the flower industry, with Jodhpuri's artificial scented rose arrangement recently becoming one of the hottest home décor items on the market today. Unlike typical roses, Jodhpuri's surprisingly realistic scented artificial flowers will never wither, meaning your loved one will enjoy your gift for seasons to come.
Formed by high-precision mods, Jodhpuri's intricately designed roses have a natural and realistic look. The amazing elasticity of the stems, foliage, and buds imitates the flexibility of real flowers, while the natural-looking fibers make the roses look and feel incredibly realistic. Most importantly, Jodhpuri's unique rose fragrances are embedded into each petal, giving them a pleasant and lasting scent.
Jodhpuri has many rose-scented products available for Mother's Day, including rose bouquets in trays, paper-wrapped rose bouquets, rose-scented potpourri, and marvelous artificial single rose and tulip stems.
Although love may last forever, a simple rose bouquet definitely won't. Make this Mother's Day one she'll never forget with Jodhpuri's exceptional artificial rose bouquets that will last for times to come. Unlike real flowers, Jodhpuri's roses can be kept as still-beautiful keepsakes for years. Whether you choose Jodhpuri's rose potpourri, artificial bouquets, incense, Scented Real Touch Stems, or other floral arrangements, Jodhpuri's products will surely impress.
For more information, or to see Jodhpuri's entire product line, please visit http://www.jodhpurionline.com. Jodhpuri products are also available on the amazon marketplace, search word "Jodhpuri."
Jodhpuri Inc. is headquartered in Parsippany, NJ, and has been in business for over 23 years. Jodhpuri is a leading manufacturer and distributor of home fragrance and décor products, such as potpourri, incense, artificial greenery, and other related items.