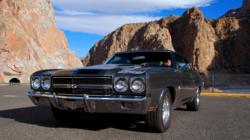 What can I say? It is an amazing car.
Cody, Wyoming (PRWEB) April 30, 2013
The Buffalo Bill Center of the West in Cody, Wyoming, has chosen a classic "muscle car" for its annual benefit raffle.
"It's hard for a car buff not to crack a smile—or at least an impish grin—at the sight of a classic muscle car," says James Tate of MSN Autos. "These overpowered iron beasts were built to deliver a beating and to take one. They were always willing and able to burn some rubber. And they were anything but agile. Big, heavy for the time, loud and rude, muscle cars embodied everything that was great about the American auto industry of the 1960s and 1970s."
In a recent poll of their readers, MSN Autos asked, "What's your favorite muscle car?" The number four car on the list was the 1970 Chevelle SS. "This car, and the engine it held, basically represented the limit of the muscle-car power wars," Tate adds, "and it is still the highest-output production car to date."
And this is fortunate for the Buffalo Bill Center of the West as proceeds from the raffle benefit its public programming.
Dave Schwarz, a Center staffer instrumental in acquiring the Chevelle, and who is featured in its promotional videos, says that driving a set of wheels like that takes him back to special times in the 70s. "But this particular car is even better with a better cam, an updated power train, and between 150 – 200 more horsepower than in 1970. Its updated exhaust really gives it a 'throaty' sound. What can I say? It is an amazing car."
The Chevelle features a 502 / 535 HP GM engine, Tremec GM TKO-600 manual 5-speed transmission, power disc brakes, Gabriel air shocks, and power steering.
The raffle drawing takes place at the Center's annual Patrons Ball, Saturday, September 21, 2013. Tickets are $20 each or six for $100 and can be purchased online or by calling with credit card in hand to 307.578.4008. Ticket-holders must be age 18 or older to enter and need not be present to win. Any applicable taxes are the responsibility of the winner; void where prohibited by law. The winner must collect the car within thirty days of the drawing.
For more information, check out the Center of the West Web site.
_______________________________________________________________________________
Since 1917, the Buffalo Bill Center of the West has been committed to the greatness and growth of the American West, keeping western experiences alive. The Center, an affiliate of the Smithsonian Institution, weaves the varied threads of the western experience—history and myth, art and Native culture, firearms, and the nature and science of Yellowstone—into the rich panorama that is the American West. The Center moves to summer hours of 8 a.m. – 6 p.m. May 1. For additional information, visit http://www.bbhc.org, or visit the Center's page on Facebook.