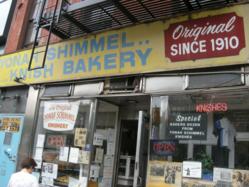 It helps us to further our mission to transform tourism into something richer for both the visitors and the communities that they visit.
New York, NY (PRWEB) April 30, 2013
Urban Adventures, a joint venture of Intrepid Travel and WHL, is a global tour company that specializes in uniquely designed and locally led tours. Their tours, which are found in over 80 different cities worldwide, are all managed by local tour operators. This spring, Urban Oyster took over the New York operation after being approached by Urban Adventures to replace the current operator. The previous operator of Urban Adventures in NYC was a large travel company based in San Francisco and as a result the tour products in NYC were not meeting Urban Adventures goals for quality and sales. Looking to make a change, Urban Adventures sought out a locally based operator for their New York tours and Urban Oyster's reputation for amazing local tours was what attracted them the most.
Since it's beginnings, Urban Oyster has put an emphasis on creating experiences that are unique, interactive, multi-sensory, entertaining and that challenge the way we think about ourselves, our neighborhoods, communities, cities, environment and world. "We are tour operators who provide people with experiences they cannot have through standard tours," says Urban Oyster owner David Naczycz. David hopes to bring his years of experience and enthusiasm with New York tours to his work with Urban Adventures. David comments: "We're excited about the opportunity to broaden the reach of our company and expose many more people to our beliefs in the importance of history, local consumption, and strengthening communities. It helps us to further our mission to transform tourism into something richer for both the visitors and the communities that they visit."
Urban Oyster's short term goals are the development of new tours and a re-launch of the Urban Adventures Brand in NYC. The first new tour is being launched this May and is called the "Tenements, Tales, and Tastes" tour of the Lower East Side where guests learn about the many immigrant groups that first arrived and lived in NY, while eating their way through the various cultures; Dutch, German, Italian, Jewish, Latino, and Chinese.
In addition to this first new tour, guests can look forward to additional tours under the Urban Adventures brand over the next six months. David hopes to bring a little of Urban Oyster's reputation with them to really create excellent tours for tourists and locals alike. It seems very natural that Urban Adventures and Urban Oyster work together and create some of NYC's most authentic local tours and become the singular choice for urban discovery in New York.
The "Tenements, Tales, and Tastes" tour will run 7 days a week starting at 11am. Tickets are now on sale and cost $65/person. Schedule and detailed tour information can be found on the Urban Adventures website, http://www.newyorkcityurbanadventures.com/.
About Urban Adventures:
Urban Adventures Limited is a franchised based global network of local tour operators specialising in providing high quality experiential tour and activity services, which are then marketed worldwide to local customers. There is no one in the current market who is providing this service on a global scale. Urban Adventures is a collaboration between leading adventure tour operator, Intrepid Travel and WHIL Group, the biggest local travel company in the world. It relies on a combination of Intrepid Travel's experience in designing and running the world's best experiential trips; plus WHL Group's whl.travel network of local operators and the technology to be able to sell and transact these trips at low cost. Intrepid and whl.travel share a commitment to sustainable travel and minimising impact on the environment and on communities.
About Urban Oyster:
Urban Oyster is a New York-based tour and events company, founded in 2009 by David Naczycz. The company has created multi-sensory, theme-based tours and events in New York City, which aim to reveal the stories behind the people and places that make the city's neighborhoods unique, vibrant and sustainable. Each tour and event celebrates local people, businesses and institutions and serves to connect people directly to these outstanding and vital resources. By doing so, Urban Oyster hopes to contribute to vibrant and sustainable local economies. Urban Oyster offers a variety of regularly scheduled public tours and events as well as offering private tours and events that are enjoyed by native New Yorkers and visitors alike. http://www.urbanoyster.com