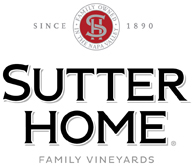 St. Helena, Calif. (PRWEB) April 30, 2013
The wine that has been a house-hold name for 65 years, Sutter Home Family Vineyards, has launched all new packaging and POS materials for its portfolio of 20 varietals. Established in 1948 in Napa Valley by the Trinchero family, Sutter Home helped introduce wine to a new base of wine drinkers by developing and introducing White Zinfandel in the early 1970's. The consumer response and success of the varietal helped Sutter Home grow into a household name and one of the largest, independent family-run wineries in the U.S. Known for its innovation, Sutter Home was the first to offer wines in light-weight environmentally-friendly and conveniently sized 187 ml bottles. Continuing to stay ahead of the trends, Sutter Home launched a Moscato decades before the recent growth surge, following up with Pink Moscato, Bubbly Moscato (pink and white), and Red Moscato. Remaining relevant, Sutter Home has been a part of people's lives for celebrations and conversations for generations. The new package was created as a way to reflect the core brand strengths, while creating more impact with a stylish, contemporary, cool, new look. It begins with a refreshed, simplified logo using a modern, sans serif typeface. The other Home improvements include:

New Paint. To add fresh appeal to the packaging and create stronger shelf appeal, brighter on-trend colors have been incorporated into the labels and capsules.
New Roof. The new colors and updated capsule design draw attention to the wines and add a cheerful pop of color to displays.
New Trim. Leveraging the platinum foil accents on current labels, new refined foil borders reflect an up-to-date style.
New Wallpaper. A clean, geometric pattern on all labels and POS materials reinforces the new branding and consumer recall.
Clean House. Evolving towards a more contemporary image, the Sutter Home Victorian house is no longer part of the label design, although it will always be part of the history.
The back label of each varietal has also been updated to be more engaging. The new flavor profile bar gives consumers an at-a-glance read on each wine's style, from sweet to dry. The copy pairs food, fun and friends with each varietal, high-lighting what makes each wine unique, while maintaining the quality and taste that the brand was built upon. The new packaging will be promoted through Sutter Home's POS materials and through its social media presence including Facebook and Pinterest.
###
About Sutter Home
Sutter Home Family Vineyards is wholly owned and operated by the Trinchero family, Napa Valley vintners since 1948. The Trinchero Family Estates portfolio includes more than 30 brands such as Sutter Home, Trinchero Napa Valley, Napa Cellars, Terra d'Oro, SeaGlass, Trinity Oaks, Folie à Deux, Ménage à Trois, and the number one alcohol-removed wine, Fre. TFE markets and sells Joel Gott Wines; Charles & Charles wines; and the Three Thieves group of wines: Bandit, Newman's Own, and The SHOW. TFE's import portfolio includes Angove Wines from Australia; Doña Paula wines from Argentina; Carmen Wines from Chile; Shatter Wines from France; and CRUZ and Tres Agaves Tequilas from Mexico. Visit http://www.sutterhome.com to learn more.
Contacts:
Nora Feeley, Public Relations Director
707-963-5928 ext. 2160 / Cell 303-589-4860
nfeeley(at)tfewines(dot)com
Carissa Abazia, Public Relations Specialist
707-963-5928 ext. 2610 / Cell 707-321-7019
cabazia(at)tfewines(dot)com