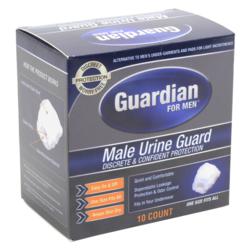 The Guardian For Men is a great new product that offers discrete and comfortable protection for men of all ages who may suffer from moderate incontinence
Gurnee, IL (PRWEB) April 30, 2013
Gurnee, Il based consumer packaged goods company, Quest Products, Inc. has announced it is adding a new item to its current range of health and beauty products. The Guardian For Men is a new product that promises to offer discrete protection for men who suffer from light to moderate male incontinence. The Guardian For Men differs from other male incontinence products in the market in that it is small in size, simple to use, and easy to dispose of. The easy to use cap is filled with a thin, super absorbent padding and made with adjustable elastic for comfortable fit.
"The Guardian For Men is a great new product that offers discrete and comfortable protection for men of all ages who may suffer from moderate incontinence," says Don Ryan, President of Quest Products, Inc. "Other products on the market like bulky diapers or pads can either be uncomfortable or do not make sense when considering the male anatomy. The Guardian For Men is designed to fit comfortably, be unnoticeable, and keep you dry."
Quest Products, Inc. is offering a free trial program to spread the word about the Guardian For Men. Customers can visit http://www.guardianformen.com. Guardian for Men is a new and innovative product for men's light incontinence. To request a free sample of the product, in addition to the option to purchase Guardian For Men in 10 count or 30 count packs.
Other online retailers carrying the Guardian for Men include amazon.com, walmart.com, drugstore.com, target.com, and cvs.com. Quest Products, Inc. is also partnering with Walgreens who will now be stocking the Guardian For Men in thousands of retail stores nationwide in addition to their website.
"A product trial with several patients at a Tennessee retirement home showed that the Guardian For Men is convenient, effective during both sleep and activity, and easy to store," says Ryan. "We are happy to partner with a retailer like Walgreens to make the Guardian for Men accessible for customers everywhere."
For company information, visit them on the web at http://www.guardianformen.com/contactus.