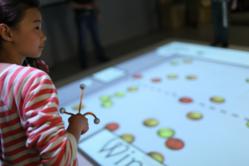 ...the classroom environment is changing and interactive learning is the key to motivating and engaging our students.
Los Angeles, CA (PRWEB) April 30, 2013
In our information-rich, fast-paced technologically advanced world, the classroom environment is changing and interactive learning is the key to motivating and engaging our students. SMALLab Learning together with New Roads and GameDesk are providing immersive, game-based learning approaches to help bring education into the 21st century through the new PlayMaker Space.
PlayMaker School at New Roads was launched in partnership with GameDesk and New Roads School in fall of 2012.
PlayMaker's philosophy is based on assessed play and student guided learning with no, low, and high tech. The students are engaged in "creating meaning" and "problem solving" by developing learning tool kits such as Media Literacy, Lenses of Culture, Taxonomy, etc. Student activities are designed to promote intuition over creating rules. Students use technology such as tablets/pads and SMALLab to intuit meaning with and without formal instruction. The learning space was adapted using current research in developing creative space in education. Currently a 6th grade core curriculum has been integrated. Assessment and management is done via the Learning Tool, an LMS system based on current educational research on cognition and learning.
The Adventure Room collaborative space features the room-sized SMALLab embodied learning environment. SMALLab uses 12 motion-capture cameras to track students' movements as they learn in an immersive, interactive space. The PlayMaker educator roams through the space as a guide and advisor, offering advice and instruction as needed. Students explore, discover, play and learn.
These PlayMaker spaces provide physically motivated tech and making infused environments designed to support the teaching and learning of 21st century skills. The spaces enable students to move elegantly between individual and group work and to engage in project-based and applied work. Beyond student support, the ideation space will provide support for educators to collaborate, share best practices, and offer a parallel research space.
SMALLab Learning's philosophy is to create the most effective embodied learning experiences for schools to help advance student learning. Our kinesthetic, collaborative, and multimodal scenarios enable learning with technology that is engaging and interesting to students with a record of demonstrated success.
SMALLab Learning has a track record of research conducted at the Arizona State University School of Arts, Media and Engineering in the Herberger Institute for Design and the Arts. It demonstrates that embodied learning has a positive impact on student achievement. This research was conducted in real world classrooms across the country with support from the National Science Foundation (NSF), MacArthur Foundation, and the Gates Foundation. Together with our innovative professional development programs, teachers are properly trained to effectively implement embodied learning.
About SMALLab Learning
SMALLab Learning is advancing embodied learning in schools, museums, libraries, and the home. Embodied learning is kinesthetic, collaborative, and multimodal, enabling students to learn in new ways that integrate physical action with digital media. The company offers a suite of products that have been demonstrated effective. SMALLab Learning LLC emerges from over six years of research conducted at The School of Arts, Media and Engineering at Arizona State University with funding from the National Science Foundation, the MacArthur Foundation, Intel Research, and the Kauffman Foundation.
What is Embodied Learning?
Embodied learning is an emerging field that blends human computer interaction with learning sciences. Cognitive scientists have discovered compelling evidence that most language and cognition is grounded in a bodily experience. This suggests that embodied, physical activities can lead to more effective learning. Embodied learning has the potential to transform K-12 learning in schools, museums, and community centers.