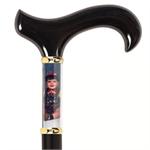 The All New
Picture Cane
Lady Lake, Florida (PRWEB) April 30, 2013
Once in a while a new feature comes along in the walking cane business. This year the Picture Cane is making waves with cane users. The new Picture Cane is a great invention and Walking-Canes.Net is proud to be one of the distributors of this item here in the USA. Anyone using a cane is going to want one!
The new addition is made of wood and comes with a Derby Style Handle and is offered in three colors. The colors offered are black, natural and mahogany. The idea behind this cane is that the middle section unscrews and a small two inch by three inch picture can then be inserted. The section is then re-attached and then the talk of the town will begin.
Imagination is unlimited when it comes to what type of picture can be inserted in the picture cane. The cane comes with a free wrist strap that matches the cane color. Express your feeling and passion with this type of new exciting walking cane.
The nice thing about this cane is that the picture can be changed often.
Walking-Canes.Net has also received a new line of walking canes called "All That Jazz." The canes are extremely elegant and fashionable without giving up the comfort or function. The Jazz selection will consist of folding canes as well as adjustable type canes. From Diamonds to Elegance these canes will help the user standout from the rest. Each of the fashion canes is made from lightweight aluminum and a free wrist strap is included. Make "All That Jazz" Walking Canes a part of the collection that can be used daily or just for formal events. The selection does consist of many color combinations.
Call customer service for any questions at 1-888-928-1774