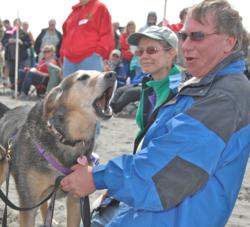 Dogs and people just love this show!
Long Beach, Wash. (PRWEB) April 30, 2013
Canine owners and dog-lovers at large are invited to join the fun on June 28 and 29 at the Long Beach Peninsula's Doggie Olympic Games. Providing the perfect recipe for a good time – playful puppies, a sandy beach and many laughs – the Games will be held at the Bolstad beach approach in Long Beach.
"Dogs and people just love this show!" said Mollie Christianson, event coordinator. "Doggie Olympic Games gives all talented, friendly dogs and their adept handlers the chance to show off a range of talents in playful, often humorous, competitions."
The wide variety of competitions promise to both amuse and challenge the four-legged participants of any size, shape or breed and their handlers. Spectators are welcome; laughs are guaranteed.
Saturday's main events range from the Babe Ruth Obedience Baseball to the Who's Your Daddy? mixed-breed competition, a Doggie Dash and the popular Frisbee Throw. Other competitions will include Dunking for (Hot) Dogs, I've Got Rhythm Musical Sit, the Peanut Butter Lick, the Luciano Pavarotti Commemorative Sing Off, and Fill A Fuller Brush. What, No Ducks? ball toss, Nadia Comaneci agility and Rip Van Winkle Sleep Off complete the competition line up.
In the spirit of the Doggie Olympic Games, an opening ceremony and lighting of the Olympic flame will herald the start of the games, and gold, silver and bronze medals in the shape of a paw print will be awarded to the winners of each competition.
Registered participants and those who would like to register are invited to pizza party on Friday, from 4 to 7PM, at The Breakers resort (Hwy. 103 at 26th St., Long Beach). Pizza will be available for $2 per slice and soft drinks for 50 cents each. Special events for puppies, over four months old and still too young to participate in Saturday's games, and also for senior dogs, over ten years old, will take place at the pizza party.
The competitions will run from 12:45 up until at 5PM, with same-day registration open for 11AM to 1PM. The event is free to spectators; however there is an entry fee of $10 per event or $40 for five or more events. For a registration form, please access http://doggieolympicgames.com. To ensure a spot in any competition, preregistration is strongly encouraged.
In addition to the canine competitions, there will be vendors of doggie goods, information booths, and a dog and companion photo opportunity. As always, downtown Long Beach offers great places to shop and grab a bit to eat, and other communities on the Peninsula – Seaview, Ilwaco, Ocean Park, Nahcotta and Oysterville – invite discovery.
With many dog-friendly establishments and wide-open spaces, the Long Beach Peninsula is a great destination for families and their dogs. Rich in tradition and raw beauty, this enchanting 28-mile long sandy cape is located in the southwestern most corner of Washington State and is surrounded by the Pacific Ocean, Columbia River and Willapa Bay. For destination information, please contact the Long Beach Peninsula Visitors Bureau at 360.642.2400 or access http://www.funbeach.com.