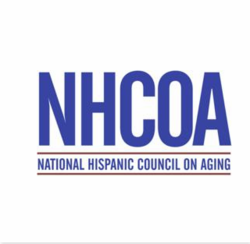 Washington, DC (PRWEB) April 29, 2013
During Older Americans Month, the National Hispanic Council on Aging (NHCOA) — the leading national organization working to improve the lives of Hispanic older adults, their families, and caregivers — is highlighting the importance of leveraging empowerment and leadership development among Latino seniors and families in order to address the poverty, food insecurity, and hunger challenges they face at significantly high rates.
Poverty and hunger disproportionately affect Latinos in the United States. Data indicates that Hispanics are more likely than any other group in the U.S. to battle poverty, food insecurity, and hunger. These issues are especially prevalent among Hispanic older adults, partially due to the multiple cultural and linguistic barriers that isolate them from their communities. This social isolation can result in depression and a disconnection from the services and information that would benefit them the most. It also makes them more vulnerable to several forms of abuse and fraud, which is reflected in the data:

Nearly one-in-five Hispanic older adults lives in poverty, compared to 6.8% of non-Hispanic White older adults. However, without Social Security, over 50% of Hispanic older adults would live in poverty.
In 2009, Hispanics paid 48% more of their income on monthly housing costs than the rest of the U.S.
About 5.5% of Hispanic older adults lack health insurance, compared to less than 1% of the non-Hispanic population.
The rising costs of health care, and the fact that Social Security benefits do not increase in response, is a serious problem for Hispanic older adults and limits their ability to attain economic security.
With these facts in mind, NHCOA is committed to making a difference in the lives of older Americans. Through extensive assessments and grassroots outreach, NHCOA has found several barriers affecting Hispanic older adults, which range from lack of education to language proficiency attainment. This knowledge informed the development and implementation of programs that provide sustainable solutions by helping to alleviate the poverty and hunger that many Hispanic older adults face on a daily basis. These programs, which address a range of issues related to health, housing, and economic security, empower seniors to access information, resources, and services. Additionally, every NHCOA program includes a strong empowerment and leadership component that encourages Hispanic older adults to be their own best advocates.
For example, one NHCOA's key programs is the National Hispanic Senior Medicare Patrol (NHSMP), which provides Hispanic older adults, their families, and caregivers with the tools and knowledge to detect, protect, and report Medicare fraud. Through the NHSMP, many seniors across the country now realize they are targets of fraud and are eager to learn how to prevent it. Additionally, they are often even more interested in sharing the fraud awareness and prevention message with other older adults in their communities so they can be protected as well. This peer-to-peer approach is what makes the program so successful and engaging for Latino seniors and families. However, the extent to which programs like these can have an impact depends on the level of community involvement.
As we celebrate Older Americans Month this May, NHCOA encourages all communities to join NHCOA's efforts to increase intergenerational leadership, especially among Hispanic older adults. For more information about NHCOA, its work, and its growing NHCOA Leaders Network, visit http://www.nhcoa.org.
Older Americans Month was established in 1963 when only 17 million living Americans had reached their 65th birthdays. About a third of older Americans lived in poverty and there were few programs to meet their needs. Historically, Older Americans Month has been a time to acknowledge the contributions of past and current older persons in our country, and particularly those who defended our country.