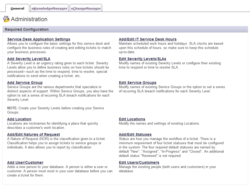 The ease of getting up and running on Giva was extraordinary and required only a week, said David Burne, IT Leader for Saint Elizabeth Health Care
Santa Clara, CA (PRWEB) April 30, 2013
Cloud vendor, Giva®, today announced a new website video highlighting the set-up, administration and the highly customizable features of the Giva Service Management™ Suite which requires no programming or consultants. The Giva Service Management™ Suite is Giva's cloud computing SaaS (Software-as-a-Service) solution for IT service management for law firms, healthcare institutions and other high visibility professional firms.
"The ease of getting up and running on Giva was extraordinary and required only a week", said David Burne, IT Leader for Saint Elizabeth Health Care. "This speaks volumes about how well Giva is architected and how easy it is to configure and customize. There is no coding, scripting or any programming language to learn; the interface is a highly intuitive with point-and-click administration. Giva has very deep, sophisticated customization capabilities that will allow Saint Elizabeth's service desk requirements to grow and evolve. The team was able to configure and fully customize the Giva cloud applications in only 10% of the time it would take to configure/install a similar customized software suite." [Click to download the case study.]
The Saint Elizabeth Health Care IT Team's reported results also included a 50% lower TCO (total cost of ownership) over a three year period, a 40% increase in productivity of the IT service desk team by using Giva reports and dashboards, and 100% application uptime using Giva nearly 24x7, among other significant improvements.
Giva's cloud solution significantly benefits information technology organizations which like to focus on increasing first contact resolution, increasing customer satisfaction, decreasing call volume with root cause analysis and exceeding service level agreements (SLAs).
It is very easy to get up and running on Giva. Often, configuration/customization settings from a currently used call tacking system can be imported directly into Giva easing the transition to a new system. Also, the history of service requests and assets can quickly be imported into Giva. With Giva's REST based API, customers can automatically synchronize internal databases of employees/customers (i.e. SAP, Active Directory, Oracle, HR systems, etc.) with the Giva database so no manual effort is ever required.
"Most of our customers are able to get up and running on Giva in just one week or less", said Ron Avignone, founder of Giva, Inc. "All of Giva's capability can be configured with intuitive and easy-to-use administration tools so no programming or expensive consultants are required even to do highly complex work flow customization, which results in a lower total cost of ownership (TCO). Even as a cloud vendor, Giva does not have any unique rights that our customers cannot access to configure and customize as they wish with full control. Throughout all Giva's application modules, there are templates and default settings for customization/configuration that can be easily leveraged. It is easy to get started using Giva with an "out-of-the-box" configuration and then adjust while a new customer learns about Giva's extensive capabilities and how your organization can take advantage of the latest IT help desk and customer service best practices."
Learn more by taking a tour of Giva eHelpDesk or sign-up for a 30 day trial of Giva.
About Giva: Founded in 1999, Giva was among the first to provide a suite of help desk and customer service/call center applications architected for the cloud. Now, with hundreds of customer driven releases, the Giva Service Management™ Suite delivers an intuitive, easy-to-use design that can be deployed in just days and requires only one hour of training. Giva's robust, fast and painless reporting/analytics/KPIs quickly measure team productivity, responsiveness and customer satisfaction resulting in faster and higher quality decision-making. Customization and configuration are all point and click with no programming or consultants required to deliver a substantially lower total cost of ownership. Giva is a private company headquartered in Santa Clara, California serving delighted customers worldwide.
PR contact:
Email: pr(at)givainc(dot)com
Phone: 408.260.9000
Giva is a registered trademark of Giva, Inc. Other company and product names may be trademarks of their respective owners.