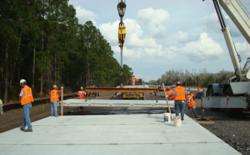 Precast concrete pavement is a long-life solution for pavement rehabilitation and reconstruction – if produced and constructed according to recommended guidelines
Austin, TX (PRWEB) April 30, 2013
Agencies, owners, manufacturers, and contractors seeking guidance for precast concrete pavements can now take advantage of a new comprehensive handbook. Developed under a cooperative agreement between the Federal Highway Administration (FHWA) and the Precast/Prestressed Concrete Institute (PCI), the State-of-the-Art Report on Precast Concrete Pavements is the first all-inclusive precast pavement handbook ever released by the agencies.
The report – written by PCI's Pavement Committee – delivers state-of-the-art information so precast pavements can continue to speed up highway construction, maintain their status as long-life pavement, and reduce roadway downtime.
"Precast concrete pavement is a long-life solution for pavement rehabilitation and reconstruction – if produced and constructed according to recommended guidelines," said David Merritt, PE, PCI Pavement Committee Chair and Project Manager at pavement engineering firm The Transtec Group. Merritt helped develop the US' first precast prestressed pavement project and continues to assist with precast pavement projects around the country.
Precast pavement's long life is due partially to the method used to produce the concrete: precast panels are fabricated and fully cured in a controlled environment before being transferred to a job site. For an even more durable pavement, precast panels can be prestressed, a process that minimizes stresses in the pavement that can lead to cracking.
The State-of-the-Art Report on Precast Concrete Pavements is divided into four areas: applications, design and maintenance, manufacture, and construction. Any section may be individually obtained as a stand-alone document.
In addition to the comprehensive handbook, PCI has created an online precast pavement repository at http://www.PrecastConcretePavement.org to provide access to further information and project resources. The site was developed as part of PCI's cooperative agreement with FHWA.
To obtain a physical copy or digital version of the State-of-the-Art Report on Precast Concrete Pavements, visit PCI's ePubs webpage.
About The Transtec Group: The Transtec Group is a pavement engineering firm that provides expertise in pavement design, research, construction, rehabilitation, software development, Public-Private Partnership (P3) projects and technology transfer for the transportation industry. A DBE and MBE firm, Transtec is a leader in Design-Build transportation projects worldwide. Transtec is based in Austin, Texas and serves clients throughout the world. For more information, please visit http://www.TheTranstecGroup.com.