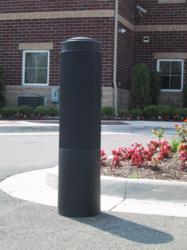 It adds a refined style of decoration at a fraction of the cost of iron bollard covers
Vancouver, BC (PRWEB) April 30, 2013
Reliance Foundry Co. Ltd., North America's premier supplier of bollards, bike racks, and custom castings, announced the release of a bollard sleeve today that offers traditional ornamentation combined with the contemporary functionality of thermoplastic – the model R-7176 plastic post cover. With a fluted shaft, the model R-7176 plastic bollard is designed to provide streetscapes with a time-honored feel while its cost-sensitive, polyethylene composition will protect security posts and will not fade or chip. The new model plastic post cover will transform drab security posts into classically-inspired architectural highlights that provide the ultimate in elemental durability.
"When it comes to maintaining an architectural motif, security posts can standout like a sore thumb and painting doesn't really help in that regard," says Reliance Foundry's Sales Manager, Rick Pasternak. "We decided to develop an economical solution that would help prevent security posts from clashing with their surrounding architecture."
The result of Reliance Foundry's efforts is a newly-developed model R-7176 plastic bollard cover. It is the perfect combination of classically-inspired style and economical elemental protection. The model R-7176 is composed of a low density thermoplastic polyethylene that contains ultra-violet and anti-static additives. Its thermoplastic composition will protect steel posts from rain, snow, and harmful UV rays and it will prevent them from rusting. At the end of the bollard sleeve's service life, the polyethylene used to create it is also completely recyclable. The model R-7176 bollard sleeve cover features a design that was inspired by classic columns. It has a shaft that contains a unique fluted pattern and its crown has traditional domed form. The new model brings a touch of bygone character to streetscapes and creates an old-world feel. The model R-7176 can be easily fit over security posts with ten inch outside diameters. It comes with Ideal Shield™ tape that permanently sets the bollard sleeve cover and virtually eliminates the potential for theft. It reduces maintenance and increases the service lives of the steel post on which it is installed. The model R-7176 will permanently transform drab security posts into cost-effective and architecturally-appealing works of art that.
"The new R-7176 post cover makes sense for bollard projects with a tight budget where elemental protection and ornamentation are both required," says Brad Done, Vice President of Sales and Marketing at Reliance Foundry. "It adds a refined style of decoration at a fraction of the cost of iron bollard covers and it eliminates the need for painting security posts annually."
Reliance Foundry offers bollard sleeve covers and plastic post covers that increase visibility and protect the structural integrity of steel posts. They are available in a wide array of styles, ranging from industrial to elegant. Models are available to fit all standard sizes of security pipes and Reliance Foundry offers free-of-charge alteration services to ensure that each bollard meets the exact specifications of every project. Reliance Foundry's new bollard sleeve can be installed in a matter of minutes to make a pronounced statement on streetscapes. Learn more at: http://www.reliance-foundry.com/bollard/post-covers-plastic-premium/R-7176-Bollard.
About Reliance Foundry Co. Ltd.
Reliance Foundry has been a trusted supplier of cast metal products since 1927. Specialists in bollard design, production and installation, Reliance Foundry's innovative catalogue also features cutting-edge bike racks and industrial-grade, steel wheels. Reliance Foundry sources cast metal solutions from across the globe to provide competitive prices and conveniently ships to all locations within North America. Reliance Foundry is the proud recipient of the Surrey Board of Trade's 2012 Business Excellence Award.