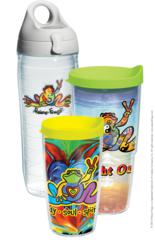 When we encourage our fans to live fun and do good, that means to each other and the environment.
Gloucester, VA (PRWEB) April 30, 2013
Peace Frogs is pleased to announce that in June 2013 its classic Peace Frogs designs will be available on Tervis insulated tumblers, mugs and water bottles.
"Working with Tervis not only helps us promote positively peaceful living on drinkware that we all know and value already, but it's also an eco-friendly option in drinkware," said Catesby Jones, Peace Frogs Founder and President. "When we encourage our fans to live fun and do good, that means to each other and the environment."
Like Tervis drinkware, "Peace Frogs' products are made in America and appeal to every age, gender and style," said Maureen Mason, Tervis VP of Licensing. "Our Tervo-maniacs can now sport their favorite (Peace Frogs) designs, and show their support for making environmentally friendly choices, on any of our Tervis products."
The Tervis Peace Frogs collection retains the features of all Tervis drinkware – keeping hot drinks hot and cold drinks cold. Tervis drinkware reduces condensation and are virtually unbreakable, safe in the microwave, dishwasher and freezer. Tervis drinkware also offers a lifetime guarantee.
The Peace Frogs designs are available in various sizes and range in price from $11-25.
See the new collection at the Dallas Total Home & Gift Market June 19-25 (TradeMart #1034) and The Atlanta International Gift & Home Furnishings Market July 10-17 (Building 2, Suite 840).
The Peace Frogs Tervis line will also be available this summer at http://www.peacefrogs.com.
About Peace Frogs:
Established more than 25 years ago by Catesby Jones, the Virginia-based Peace Frogs apparel company promotes positively peaceful living.
The apparel and gift products are featured online, in more than 800 specialty stores around the world and via an annual catalog. With 16 free standing stores and 20 licensees, the Peace Frogs brand grows in popularity each year.
For more information about Peace Frogs, contact Catesby Jones at catesby(at)mindspring(dot)com. To stay in touch with the Peace Frogs community, visit Peace Frogs on Facebook at PeaceFrogsCompany, on Twitter @lovepeacefrogs or Pinterest.
About Tervis:
Tervis has been making fabulously fun, insulated drinkware right here in America since 1946. With a lifetime guarantee, Tervis products keep hot drinks hot and cold drinks cold, are virtually unbreakable, are microwave, dishwasher and freezer safe, reduce condensation, and can be personalized for any hobby or interest. In fact, Tervis has thousands of designs to choose from, including license agreements with some of the world's most beloved brands and sports teams.
Tervis is more than drinkware; it's a lifestyle that's truly an everyday, on-the-go outlet to express yourself. Tervis products are available at tervis.com, Tervis company stores, and thousands of retailers nationwide.
For customer information, please call 866-TUMBLER, or visit us at on Facebook: TervisTumblerCo, and Twitter @tervistumbler. Tervis factory and headquarters are located at 201 Triple Diamond Blvd., North Venice, Florida, 34275.