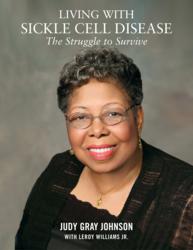 Judy has distinguished herself as a master storyteller and tireless advocate for sickle cell disease patients.
Alexandria, Virginia (PRWEB) April 30, 2013
Thursday, May 2, 2013, will mark one year since the release of the memoir Living With Sickle Cell Disease: The Struggle to Survive by Judy Gray Johnson. By publishing her life's story, Judy has distinguished herself as a master storyteller and tireless advocate for sickle cell disease patients.
Against the backdrop of this milestone, Judy continues to get the word out about sickle cell disease by posting on her blog a guest post on how sickle cell patients can apply for and receive Social Security Disability benefits.
In addition, Judy is scheduled to appear at two sickle cell-related events. The first is as a keynote speaker at the First Annual Sickle Cell Conference of the Humber Institute of Technology and Advanced Learning to be held June 2013 in Toronto, Ontario, Canada. The other is the Second Annual Sickle Cell Disease Awareness event sponsored by the Forsyth County (NC) Sickle Cell Advisory Board and Piedmont Health Services and Sickle Cell Agency, scheduled for August 2013 in Winston-Salem, North Carolina. There, Judy will speak and hold a book-signing.
Judy's memoir chronicles how she lived her life – from a poverty-stricken childhood in southwestern Virginia to a successful career as a public educator – while struggling with the blood-borne illness known as sickle cell disease. In a collaboration with veteran journalist Leroy Williams Jr., Judy wrote the book to educate the public about the insidious, debilitating nature of the condition. Judy also intends for her book to be a primer to medical personnel who are faced with treating sickle cell disease patients while in the throes of a painful "crisis."
"People have to understand that this is a disease that we have no control over. We were born this way, and we have every right to be treated with dignity and respect," Judy said during an interview with The Philadelphia Tribune. "There are too many doctors that don't feel comfortable in treating sickle cell patients. They don't know how to deal with pain."
Sickle cell disease is a group of inherited red blood cell disorders and affects hemoglobin, the molecule in red blood cells that delivers oxygen to cells throughout the body. The condition is marked by red blood cells becoming hard and sticky and resembling a C-shaped farm tool called a sickle, meaning the cells take on a crescent shape. The sickle cells die early, which causes a constant shortage of red blood cells. Also, when they travel through small blood vessels, they can become stuck and clog the blood flow, which causes sickle cell patients to have painful episodes called crises, which can last from hours to days. These crises can cause pain all over the body.
Since May 2012, Judy has been interviewed on numerous internet and radio programs, including Keeping It Real, hosted by the Rev. Al Sharpton. She also has traveled as far as Pittsburgh, Pennsylvania; Charlotte, North Carolina; and Fredericksburg, Virginia to spread the word about her book and sickle cell disease. Judy has also worked hard to create awareness on her home turf of metropolitan Washington, D.C., where she has hosted a book signing and reading at the renowned Sankofa Video, Books, and Café near Howard University during Black History Month.
Living With Sickle Cell Disease: The Struggle to Survive has garnered many positive reviews, including a post by blogger Priscilla King. King asked, "Who should read Living With Sickle Cell Disease? Anybody who's likely to meet a person who has the disease. That would mean anybody living in North or South America, Africa, the Middle East, Europe, India, or Australia."
Judy's memoir is also listed among "Books to Ring in the New Year," by Richard Prince, who writes a popular online column, Journal-isms, about racial and ethnic diversity in the media for the Maynard Institute for Journalism Education.
Living With Sickle Cell Disease is on sale at Sankofa, located at 2714 Georgia Avenue NW in Washington, D.C. The phone number is 202-332-1084. Living With Sickle Cell Disease is also available in hard cover, paperback and E-book versions through her website, http://www.judygrayjohnson.com.